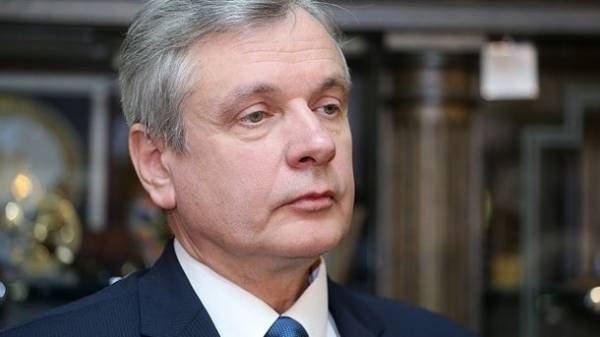 The Minister of education and science of Latvia Karlis Sadurskis notes the validity of the provisions of language article new Ukrainian law "About education", the press service of the Ministry of foreign Affairs of Ukraine.
"The steps of Ukraine on ensuring of the prerequisites for studying of the state language in the education system are clear," said Sadurskis during a meeting with the Minister of foreign Affairs of Ukraine Pavel Klimkin, who briefed him on the basic provisions of the law.
SEE ALSO
The education act came into force: changes, scandals, and 12-year-old
On the example of Latvia, he noted the importance of creating prerequisites for pupils to gain the necessary knowledge of the state language and not be discriminated against on the labour market of their country.
Klimkin, in turn, noted the interest of Ukraine to the borrowing of the Latvian experience of the functioning of the education system with the use of languages of national minorities.
SEE ALSO
The new law about education: why resent some of the neighbors of Ukraine

The two sides also signed the agreement between the government of Ukraine and the government of the Republic of Latvia on cooperation in education, science, youth and sports.
We will remind, the Ambassador of Hungary in Ukraine Erno Keskeny hopes to find with Ukraine a joint decision according to article new Ukrainian law on education, which concerns the languages of national minorities. He said this at a press conference dedicated to the cultural events of the autumn of 2017, which will be held with the support of the Embassy.
As reported, on September 28 the law "On education" came into force. The law, among other things, determines that the language of the educational process in educational institutions is the state language, but in accordance with the educational program can be taught one or more courses in two or more languages – Kazakh, English, other official languages of the European Union. Persons belonging to national minorities guaranteed the right of education in native language along with the Ukrainian language in separate classes (groups) of public institutions of preschool and primary education.
The Ministry of foreign Affairs of Hungary said on 26 September about the country's intention to block the rapprochement between Ukraine and the EU because of the law on education.
The Ministry of education and science of Ukraine has sent to the Council of Europe a letter, in which he announced his intention to send for examination to the European Commission for democracy through law (Venice Commission) article about the language of instruction of the law "On education"
Comments
comments