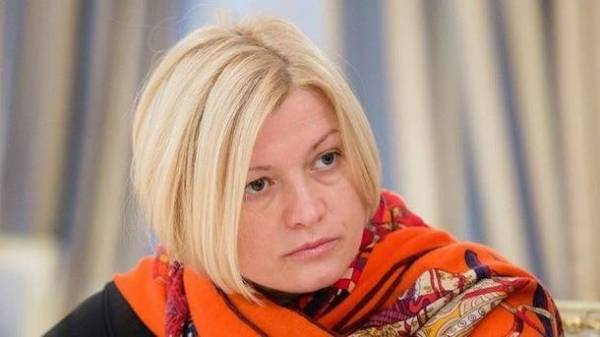 Vice-speaker of the Parliament Irina Gerashchenko suggested that the representatives of countries dissatisfied with the Ukrainian law "On education", to attend schools for national minorities and called on to defend the Ukrainian language. She wrote about this in Facebook.
According to her, Ukraine needs to develop the Ukrainian language, that he has not disappeared, as Russia wants.
"Not the state Duma of the Russian Federation to make a shaman dances in our law "On education". In countries, where about 10 million of the Ukrainian Diaspora, there is no Ukrainian class or school, no TV channel or radio, any Ukrainian newspaper, the Ukrainian language frankly bullied on the Federal channels, and the Ukrainians and Ukraine declared a universal evil. I am silent already about 10 thousand were killed "Russian spring" Ukrainians in the Donbas. Regarding language, it is not just a right but a duty of the state to protect and develop the state language. In no other country in the world, except for Ukraine, Ukrainian is not a state, so we must do everything that the language has evolved, not disappeared, as dreams of "Mordor", – wrote Gerashchenko.
SEE ALSO
The scandal with the law on education: the Russian state Duma is preparing a statement in the UN against Ukraine
She suggested inviting the Hungarians and Romanians in Western Ukraine, to visit schools for their minorities.
"At the PACE session in Strasbourg, I think our delegation should invite (Romanian and Hungarian delegations. – Ed.) visit Romanian and Hungarian schools and classes, which operate in Western Ukraine, there are dozens of schools with the languages of national minorities. In turn, we also want to see and visit at least one Ukrainian school or class in neighboring Hungary and Romania, where a large Ukrainian Diaspora. But there are such schools and kindergartens there," – said Gerashchenko.
The Deputy explained that the law "On education" in the language question – liberal and progressive.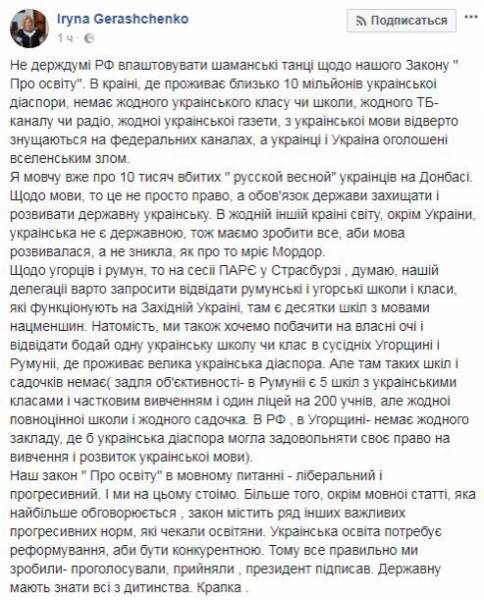 Recall, September 5 the Verkhovna Rada adopted the education reform, which is based on the law "On education". September 25, Petro Poroshenko signed the law.
Earlier dissatisfaction with the education law was expressed by Romania, Moldova, Hungary, Russia.
In turn, the Minister of education and science, Liliya Hrynevych said that Ukraine is ready to send to the Council of Europe for examination the language article of the law "On education", to confirm the absence of violations of international obligations.
Comments
comments