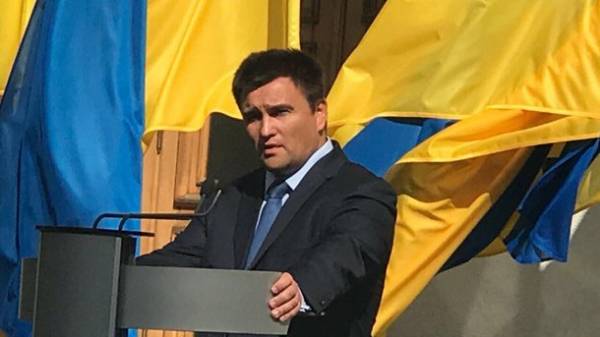 The Ministry of foreign Affairs of Ukraine sent to the law On education for examination to the Venice Commission, Minister of foreign Affairs of Ukraine Pavlo Klimkin.
"Today, I sent this law, as agreed, for consideration by the Venetian Commission", – the Minister said on a talk show, "the Right to Vlad," on Thursday.
Klimkin also noted that the law was aimed precisely today, because the day he came into force, and was also produced its translation.
"Ms. Lily (Grinevich. – Ed.) will give this law officially, when it will be next week to consult with the Council of Europe," he added.
SEE ALSO
The education act: Klimkin called for consultations of the Ambassador of Ukraine in Hungary
As reported today, 28 September, entered into force a new law "On education", which envisages reforming of the educational sphere.
Article 7 of the Law stipulates that the language of the educational process in educational institutions is the state language – Ukrainian.
According to the law, persons belonging to national minorities of Ukraine is guaranteed the right to education in public institutions for education along with the state language of the respective national minority. This right is implemented via classes (groups) with education in the language of the national minority alongside the state language.
SEE ALSO
The scandal with the law on education: in Parliament sharply answered Russia, Hungary and Romania
In Poland, Romania, Hungary, Greece, Bulgaria expressed concern in connection with the provisions of this act, concerning the language of instruction of national minorities of Ukraine.
The Minister of foreign Affairs of Hungary Peter Siarto stated the intention of his country to block the rapprochement between Ukraine and the EU due to the language provisions of the education act.
The Ministry of education and science of Ukraine assured that the language provisions of the new law on education in Ukraine does not violate the European Charter for regional or minority languages and the framework Convention for the protection of national minorities.
Grinevich reported earlier that the conclusion of the Venice Commission on the law "On education" can be expected by the end of autumn, but before the receipt of the opinion to amend the law impossible.
Comments
comments