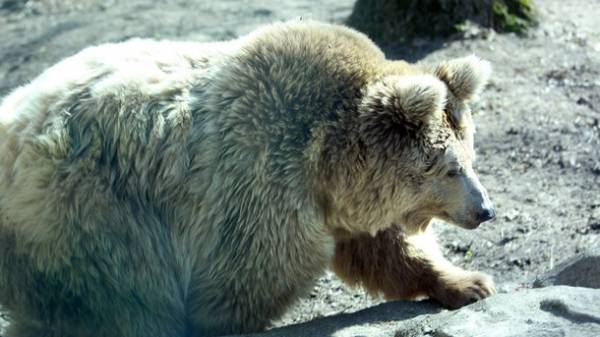 Recently in Bila Tserkva of Kyiv region during his speech, the travelling circus was an emergency, which miraculously ended in tragedy. Bear Masha suddenly jump out of the arena and attacked the audience arena was not protected by specularities. In the video, which was filmed by eye-witnesses, shows how during the performance the handler loosened the leash, dipper lay on the floor legs up, but after a moment stood up abruptly and rushed to the visitors. In a hall the panic has begun — parents and children began to scream and run out into the street. Fortunately, the trainer managed to catch and tame a bear. Only a miracle no one was hurt — the audience got a fright, and one woman smashed in the crush cell phone. Surprisingly, after the incident, the performance continued.
"The bear broke free and scratched the man. Well that the muzzle was tied! My child was very scared and then didn't sleep all night! This is a parody of the circus," — wrote in social networks one of the witnesses. The police told us that the incident they learned from the social media complaints from frightened viewers did not. "We have inspected. None of the citizens nor the police, nor the medical institutions is not addressed. We found that the bear reacted to a teenage boy who is too actively gesticulating, what attracted her attention. But the boy was not injured," — said the speaker of allpolicies Nikolay Zhukovich. The administrator of the circus Victor Krivoruchko also insists that the bear was provoked by the audience. "We always ask them to refrain from any sudden movements during such performances, but it does not always help," — said Krivoruchko us. And added that the tour continues, the bear still comes out to the arena, only leash I never let go.
Expert: "There is negligence"
According to experts in the field of circus arts, Director of the National circus of Ukraine Lyudmila Shevchenko, fencing when speaking of the bear may not be. "The law requiring it to put, no, — said Shevchenko. — It all depends on the trainer. During his speech with a bear should work and assistants insurance. And to let go of the leash is the ignorance, the negligence, because to trust an animal can't." Shevchenko also said that a trainer needs to get a diploma in circus school. A traveling circus, where they had an emergency, about such of trainer Alexander told us: "With the documents he's all right!". In turn, the activist of the movement UAnimals Alexander Tatarchuk said that the locals had raised the issue to ban all tent with the animals in their city.
Comments
comments