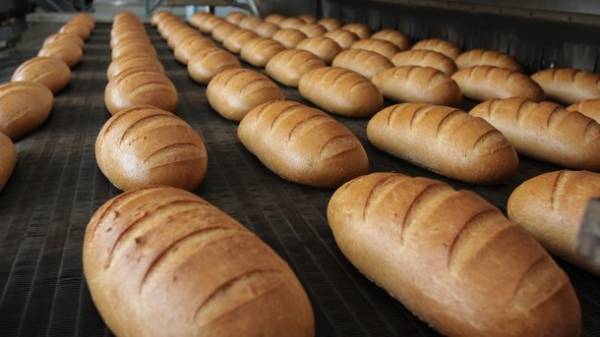 In Ukraine there is an acute problem of food quality and grain market there was a rigid competition. Bakers note that out of the oven the product leaves the sterile due to the processing of high temperature, and no mold in it may not be. However, bread is a good environment for the development of mold spores which are in the air. It is therefore necessary to examine the entire chain — from oven to counter, writes UBR.
For example, the loaf is kept in the original packaging within 48 hours. All this time the manufacturer is solely responsible for the safety of the product, and the bread should not mold.
"Significantly decreased grain quality and consequently, the baking properties of flour. After 36 hours the bread "Ukrainian" becomes friability, due to the fact that the grain of rye very little sugars", — said the Chairman of "Kyivkhlib" Vladimir Succession.
At the same time, consumers are sometimes faced with the "decay" of bread, is popular, potato disease. Flour made from infected grain is not different from normal, and none of the producers are not insured against the risk to buy it.
During baking potato sticks not die inside the crumb and can manifest itself in the finished product when you are creating the right conditions (a closed plastic bag on a hot kitchen), when microbes are actively developing.
"If you adhere to the terms and conditions of storage, the bread is nothing wrong can not be" — says a Series of. According to bakers, check out the bread on a subject infected with mold should in control points: in the factory, in the hlebovozku, store and kitchen.
Interestingly, before low quality social bread manufacturers was explained by state regulation of prices, which forced them to use cheap raw materials, to invest in the price limits set by the authorities. Now this argument is completely forgotten and instead the thesis that the Ukraine is constantly increasing its exports of grain, and more recently, and flour. Supposedly all taken for export, and bakers are forced to settle for raw materials, which remained.
Plus, there is a shortage of rye, which crops are being displaced for that year, a more profitable crops. Processors faced a shortage of raw materials. For example, according to IA "APK-inform", noted the record growth of import of this culture, first of all, from Belarus. So, for July-January 2016/17 MG delivered 1.3 million tonnes of grain, compared with 28 tons in July-January of the last marketing year.
However, not all bakers believe these problems are significant. "Grain and flour of the right quality in the market is, therefore, our enterprises are not experiencing a shortage of raw materials. For the production of dark breads we switched from Belarusian to Ukrainian flour, as the price they are on par, with sometimes low quality imports," — said the owner of the LLC "Commercial production company "Roma" (Kharkiv) Sergey Tsymbalov.
According to him, if earlier the rye flour from Russia was worth about $ 130-135./t, now $ 145./T.
Bake all
Production of bread and bakery products in Ukraine, according to the state statistics service, in January-February 2017 decreased by 9.1% compared to the same period last year. In 2016 produced 1,123 million tonnes of bread and bakery products, which is 7.1% less than in 2015. The prices for bread products continue to grow from month to month: in February 2017, 3.1%, and in January of 1.5%.
"The market of bread full Orgy. According to official statistics, every Ukrainian eats 115 grams of bread a day. This is less than were given in besieged Leningrad. And all because only 40% of the products produced at the bakeries. The rest — small bakeries who do not submit the reports," says Series.
Major manufacturers complain that the small bakeries with a production capacity of 5-10 tonnes per day, issued on a simplified system of taxation and do not pay VAT which gives them an additional margin of 20%.
In addition, simplified reporting and the actual lack of control from government agencies contributes to the shadow turnover of flour, vegetable oil and other products used for the production of bread. Because the sale of these products, including ready-made bread, made without cash registers. "Every day we brachem party different products, but I doubt flour or oil driven back over 400 km," — said the Series.
Large enterprises also complain that they are forced to comply with all applicable labor laws and other regulation. For example, for medical examination of all employees twice a year you have to pay 300 UAH per person. Plus the cost of inspection of incoming raw materials.
"Don't forget about bakeries at supermarkets, which are reported as retail trade, production of bakery products", — said General Director of Ukrainian Association of trade networks suppliers Oleksiy Doroshenko.
The prices for finished products in small bakeries by 25-30% higher than on goods from the bakeries. Because they are trying to produce more expensive varieties of bread, not a loaf or Ukrainian.
"Changing the culture of consumption. If five-seven years ago, the baton was on 2-3 place, it is now almost finished at the top. People go in Europe, on white bread. As for the black, then it wants only if it is tasty and natural," he assured Succession.
But, as evidenced by the data of the analytical company "AR-Group", Ukrainians have long been eating more wheat bread and rolls. Sergey Tsymbalov also speaks of a greater proportion of the production of wheat bread. But said that the farther West Ukraine, the more I appreciate black bread, and in the East of the country — more used is white. According to him, the cut-off price the demand for mass varieties of bread is now about 12 UAH per loaf.
The emergence of a large number of small players is forcing large companies to consolidate. As noted by Alexey Doroshenko, if earlier, in many regions there were a lot of bakeries, but today we have in a number of areas left for 2-3 mill.
But just these companies trying to take control of the lion's share of the market. They increase the efficiency and expand sales.
Comments
comments