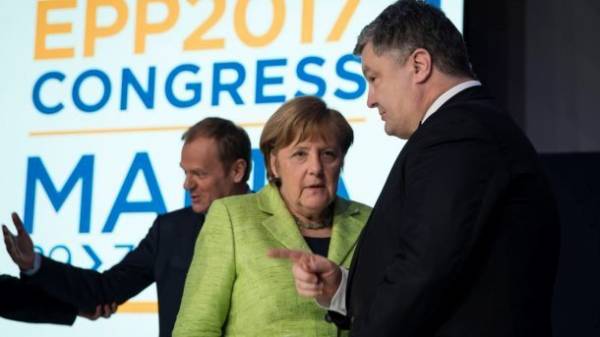 The President of Ukraine Petro Poroshenko has held a phone conversation with Federal Chancellor of Germany Angela Merkel, during which discussed the issue of deployment of the UN peacekeeping mission in the Donbass, the press service of the head of state.
First and foremost, the Ukrainian leader said Merkel congratulations on your victory in the parliamentary elections.
"Of this victory depends on the stability of the whole Europe", – said Poroshenko and wished the German Chancellor to the successful completion of coalition negotiations.
SEE ALSO
Merkel's party won the elections in Germany
In addition, the interlocutors exchanged views on the development of the situation in the Donbas and the state of implementation of the Minsk agreements.
In particular, Poroshenko and Merkel coordinated approach to the implementation of the initiative to deploy the UN peacekeeping operation on the territory of the occupied part of Donbas and uncontrolled part of the Russian-Ukrainian border.
The President also remembered about the verdict, Deputy head of the Mejlis Ilmi Umerov. Poroshenko said Merkel the necessity of immediate steps to prevent the so-called "sentence" against the Crimea, as well as the consolidation of international support to accelerate the solution of the question of liberation of all Ukrainian hostages from Russian captivity.
Recall, September 20 at the UN General Assembly the President of Ukraine Petro Poroshenko said that Russia's position on the placement of peacekeepers only on the line of contact and for the protection of the OSCE speaks of the intention to freeze the conflict in the Donbas.
The President also appealed to the UN with a request to enter the mission in the Donbass as soon as possible. In addition, he urged the Secretary-General to send to the Donbass assessment mission of the situation.
Comments
comments