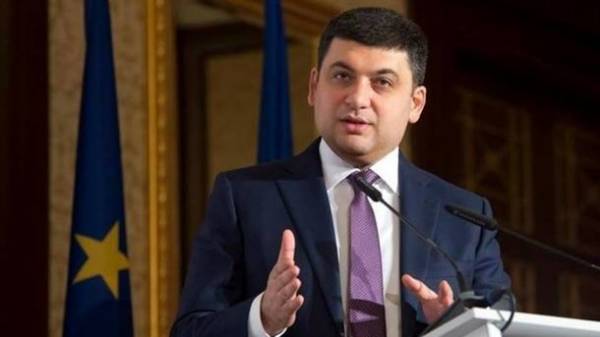 Ukraine after 2019 – after the end of the existing contract for the purchase of gas between "Naftogaz" and "Gazprom" – will be able to purchase Russian gas on the Eastern, not the Western border. This was during a briefing following the meeting with the Vice-President of the European Commission maroš Šefčovič said Prime Minister of Ukraine Vladimir Groisman.
"We absolutely will be able to buy gas on the Eastern border of our state," said Groysman, answering the question about whether Ukraine after 2019 to achieve the transfer points transfer Russian gas from Western to Eastern border, which will allow in the future to guarantee the transit of "blue fuel" through Ukraine.
Vice-President of the European Commission, in turn, noted that Ukraine should develop and adopt a model, which in future will operate the company-the operator of the gas transportation system.
"It must be a company with a high level of reputation and professionalism, which could have a transport partner. This is something we have to go," Sefcovic said, adding that the Ukrainian GTS is of strategic importance for the energy security of EU countries.
"We have a joint interest, to be sure that the Ukrainian gas transportation will work well until the end of 2019," – said Vice-President of the European Commission.
Vice-President of the Commission noted that the best response "to the current situation and all this propaganda will be a democratic flowering in Ukraine."
"We have done everything possible in terms of imposing sanctions on Russia to help Ukraine. Especially the reverse of gas, which wasn't easy… you need good use of the time, need to be reformed to get rid of the gas monopoly to come to Western investors", – said Sefcovic.
Recall that the transit of gas through Ukraine after 2020 is a priority for the EU, said the Vice-President of the European Commission on Energy Union Maros Sefcovic.
As you know, the contract with Russia for the transit of gas via Ukraine expires at the end of 2019, and Russia has called the conditions under which it will save the transit of gas through Ukraine.
We will remind, to the implementation of the Russian project Nord Stream – 2 cost nearly 10 billion euros, "Gazprom" and its partners intend to start in April 2018. It is anticipated that construction will be completed by the end of 2019.
Ukraine opposes this construction, calling it politically motivated. Instead, Kyiv has proposed that the EU create a consortium with the involvement of European companies for more efficient management of the existing transportation route through Ukraine. His disagreement with the Nord Stream project – 2 also stated a number of EU countries, particularly Poland and Lithuania.
Comments
comments