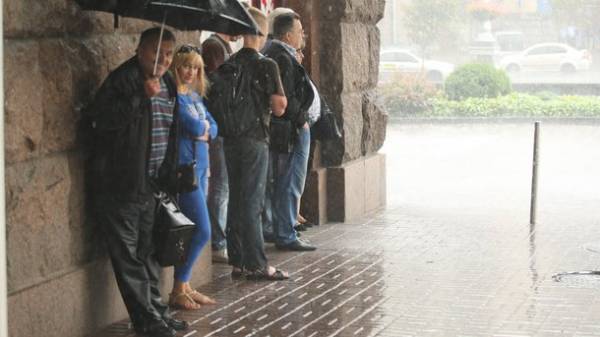 Forecasters suggest the Ukrainians to hide the sweater, but to get the umbrellas — the first part of may holidays will be warm but rainy.
So, according to the forecast ukrgidromettsentra in the Central part of the country the weather will be consistently warm, but cloudy. In the afternoon columns of thermometers will show +22-25, and at night — +9-12 degrees. The same weather waits for inhabitants of the Eastern and Northern regions. However, in the North Tuesday night forecast, and thunderstorms with rain.
Contrary to the stereotype, a little cooler this weekend in the southern regions — according to weather forecasters, daytime temperatures will range from +13 to +21, and the nights will be warm enough — from +10 to +12 degrees.
But the residents of Western Ukraine may day barbeque will have to postpone Friday then promised incessant rains, and Saturday — and even thunderstorms. Daytime temperatures will drop from +23 to +12 degrees, and at night sometimes even to +4. The weather recovered in the West only on Tuesday, when the rains end, and again will become warmer to +21.
But as for the second part of the may holidays (from may 6 to 9), then, according to the weather forecast website, almost the entire territory of the country promise daily rainfall and air temperature to +22. So, on the South and East only 6 may expect rain with thunderstorms, and then you should be fine. But in the North and in the center of the rain will be may 8 and 9. In the West, wet weather promise from 7 to 9 may.
Comments
comments