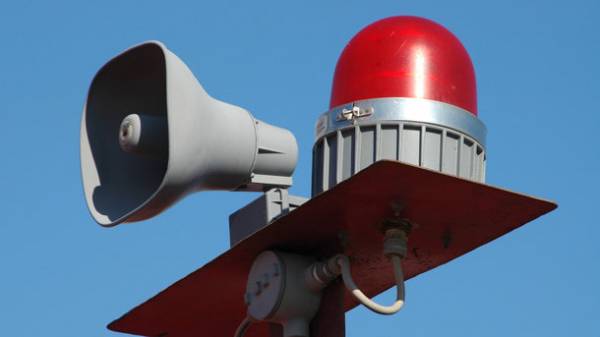 The Cabinet of Ministers of Ukraine approved the regulation on the organisation warning about the threat or occurrence of emergency situations and relations in the field of civil protection. The decision was taken at a government meeting on Wednesday, September 27.
Prime Minister Volodymyr Groysman read out the solution among the accepted without discussion.
According to the regulations, guidance on the creation and operation of alert systems at all levels by the State service for emergency situations.
The document establishes a classification of warning systems:
national;
territorial (areas);
local (districts, cities of regional importance, the United territorial community);
special (nuclear power plant cascade construction of the Dnieper and Dniester, the main pipelines);
local and posted on specific high-risk facilities (boarding schools, healthcare institutions, institutions that provide assistance to individuals with disabilities).
Alarms about the threat or emergency situation is transmitted via television and radio, regardless of the form of ownership, operators, mobile networks, online resources, signal speakers.
The decision about the alert at the national level takes the Prime Minister on the proposals of the Central Executive authorities.
This decision at the regional level, the heads of regional and Kyiv city state administrations, local heads of local administrations or authorities, on objects – heads objects.
SEE ALSO
Explosions near Vinnitsa burning warehouse of ammunition being evacuated (updated)
Recall, September 26, at about 22:00, he received information about the explosions of ammunition in the Arsenal of the defense Ministry of Ukraine near the town of Kalynivka.
As of 10:00 from the city of Kalinovka and settlements in the 10-kilometer area evacuated more than 30 thousand people. Evacuation continues. This attracted 50 buses, 10 ambulances ambulance and psychologists SSES.
According to operational information, the rescuers extinguished the fire in four residential homes that caught fire due to falling of ammunition.
As reported, at approximately 21:50 on 26 September were heard the solitary sounds of explosions, which gradually escalated into gunfire. The fire occurred at the 48th Arsenal of military unit А1119 where exploding artillery depots.
Comments
comments