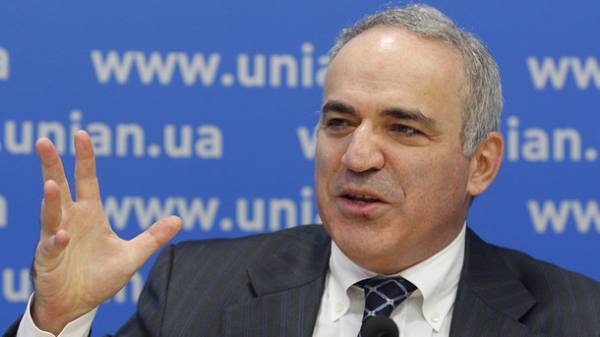 Russian opposition politician, world chess champion Garry Kasparov has supported the expansion of Ukraine sanctions against Russia, which got the Russian social network.
The corresponding statement was made in an interview with Radio Liberty.
"With regard to the closure of the Russian social networks in Ukraine, in General, I cannot comment on comments that came from Russia. This is a shame citizens of the aggressor country to teach the country that has suffered aggression how to behave. In my opinion, Ukraine was very inconsistent and very soft. It is necessary to close everything, all channels hostile propaganda," he said.
"Ukraine has enough Russian-speaking channels, the ability of the average Ukrainian voter to receive information in Russian language is practically unlimited. Thank God, there are plenty of Ukrainian TV channels, printed publications in which we operate, including the Russian journalists who decided that it is better to be a journalist in Ukraine, than to pretend to be a journalist in Russia, which, unfortunately, continue to do some of the most rabid critics of the actions of the Ukrainian authorities," – said Kasparov.
"So I would have thought that any actions of the Ukrainian authorities aimed at maintaining the sovereignty and to repel Russian aggression, including aggression, is a step in the right direction. Moreover, I very much hope that these actions will be taken by the European countries, exactly in the same way to close the channels of information war, which is actively used by the Russian special services in order to rekindle these sentiments in countries where there are large Russian Diaspora", – said the politician.
He also advised the European Union "not to shed crocodile tears" about the restriction of rights and freedoms in Ukraine, and "to ensure that the Ukrainian experience is effectively used to reflect".
"I repeat – this informational aggression, it's part of Putin's plan to destabilize the situation in Ukraine and in Europe. I think in fact it is inevitable, because there is a war, undeclared war, hybrid war, but that the essence does not change – there is a war," concluded Kasparov.
We will remind, on may 17, entered into force the decree of the President of Petro Poroshenko, which enacts the decision of the Council of national security and defense of Ukraine on the use of economic and other sanctions.
In the new sanctions list was 468 1228 physical and legal entities. this year for the first time Ukraine has imposed sanctions against Russian companies, Internet and media industry, such as Mail.ru Group, "Yandex", "Vkontakte" and "Odnoklassniki".
Comments
comments