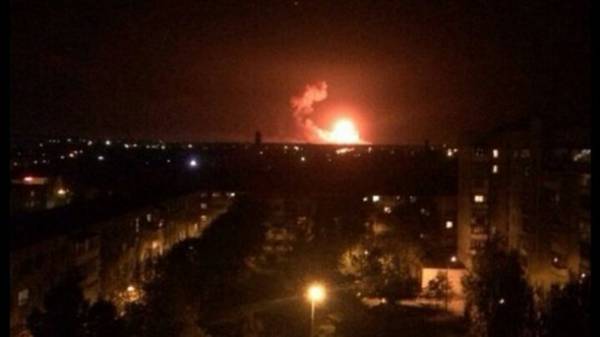 One of the reasons of explosions of ammunition in Kalinovka of Vinnytsia region could become a technical problem, or in warehouses or with some ammunition. About it reports the edition "REAL", citing sources in law enforcement bodies.
However, the newspaper notes, of any problems can be discussed, it is not yet clear.
It is also reported that warehouses (ground and underground structures) was well protected in recent months and the night of the explosion, the security forces did not record any suspicious persons or drones, which could explore the area.
It is noted that as at 0:25 the intensity of explosions has decreased. "Tearing every 1-3 seconds. Periodically salluit fireworks simultaneously exploding 5-7 shells", – is spoken in the message.
The situation around the regional center is completely controlled by the security forces, and the evacuation of residents only partially in full is not necessary, the newspaper notes.
SEE ALSO
Explosions in military warehouses near Vinnitsa: people are leaving the city, trains ready to evacuate
Recall that in Kalynivka 20 kilometers from Vinnitsa explosions occur in warehouses with ammunition and weapons. Local residents are on the road in the direction of the explosions. Now blocked the Kiev highway near Vinnitsa.
There is information that is stored in the warehouse 188 thousand tons of ammunition (10 thousand conventional cars). Among them — missiles systems of volley fire "Smerch", "Uragan" and "Grad".
Comments
comments