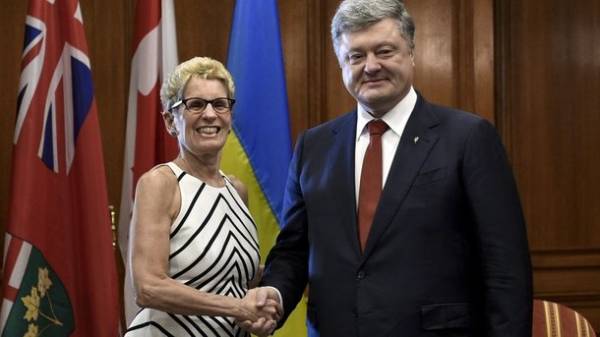 President of Ukraine Petro Poroshenko during a working visit to Canada met with the Prime Minister of Ontario, Kathleen winn (Kathleen Wynne), during which discussed the development of cooperation and interaction in economic, cultural and social spheres.
"The sides agreed on close cooperation in relation to education, including inclusive. As noted by Premier Wynne, Ontario, and Canada, considered a world leader in implementation of inclusive education. The President also invited experts from Ontario's telemedicine system", – reports a press-service of the Ukrainian President.
Poroshenko and Wynne also discussed the revival of economic cooperation between Ontario and the Ukrainian regions. Among other things, was marked with great opportunities for both countries in the field of IT.
The President also noted the important role the Ukrainians played in Canada, contributing to the development of this state. In turn, Prime Minister of Ontario said that the Ukrainian community plays an important role for the province because they make up 8% of the population.
"Wynne also spoke about informing the public of the province on the Holodomor in Ukraine. Poroshenko said about the intention of the community of Ontario, next year to open in the province of the monument commemorating the victims of the Holodomor. Earlier, the province of Ontario has recognized the Holodomor as genocide of the Ukrainian people", – is spoken in information.
Recall President of Ukraine, together with a large government delegation is on a two-day official visit to Canada. In Toronto he met with the Prime Minister of Canada Justin Trudeau, Minister of foreign Affairs Christ Freeland, Premier of Ontario Caslin UIN, canadian MPs and senators as well as local businesses and the community. In addition, Poroshenko congratulated Ukraine at the "Invictus Games".
Comments
comments