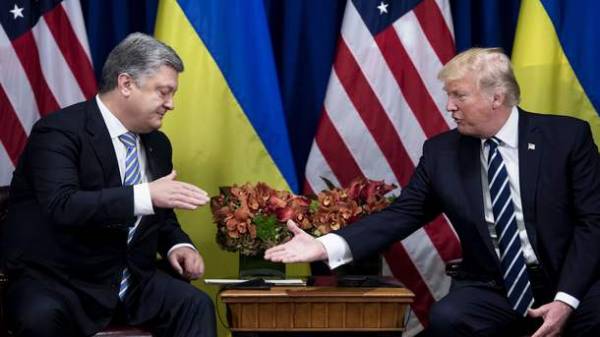 The President of Ukraine Petro Poroshenko said after a meeting with U.S. President Donald trump that the U.S. fully supported the proposals of Ukraine on the introduction of the peacekeeping mission in the occupied part of Donbass.
"These few days have been extremely important for the formation and maintenance of the world support Ukraine", – said the President.
According to him, today "a large number of world leaders to support Ukraine in our righteous fight with the Russian aggressor."
SEE ALSO
Meeting Poroshenko and the tramp: the first part
"It is very important that the U.S. fully supported the position of Ukraine concerning the placing on the occupied territories of UN peacekeepers," – said Poroshenko.
SEE ALSO
The UN security Council approved the reform of peacekeeping operations
Duzhe it's important, scho USA povnistyu patronale position of Ukraine schodo rosena on okupowanych territory mirotvorcev UN
— Petro Poroshenko (@Poroshenko), 21 September 2017 R.
Recall, September 5, Russian President Vladimir Putin has said that I agree to the deployment of UN peacekeepers only on the demarcation line in the Donbass to ensure the security of observers of the Special monitoring mission of the OSCE.
However, he noted that this issue cannot be solved without direct contact with representatives of Pro-Russian militants in the Donbas.
After that, Russia sent to the UN a draft resolution on the deployment of peacekeepers in the Donbas.
In turn, September 7, Poroshenko stressed that UN peacekeepers should be deployed throughout the temporarily occupied territory, including uncontrolled land border with Russia.
Comments
comments