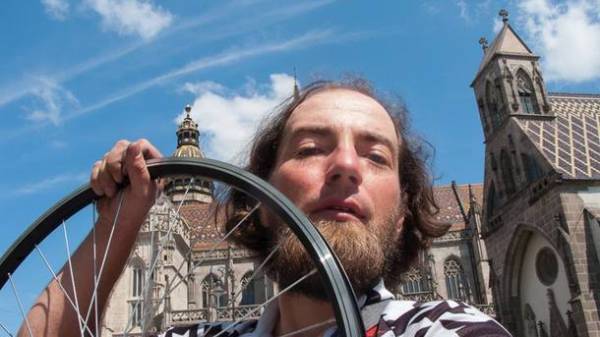 Budget travel in Ukraine are becoming increasingly popular – because you want the world to see, and debts not to get involved. And getting bezveza trip to Europe became more affordable. Besides, if you give preference to transportation, alternative for large travel – a journey, moreover, you get special.
The other day Kiev, Alexander Bogachenko-Micevski returned to the capital after a long journey. The bike activist traveled by Bicycle through Europe about 2270 kilometers, spending a month and a half… only 400 euros.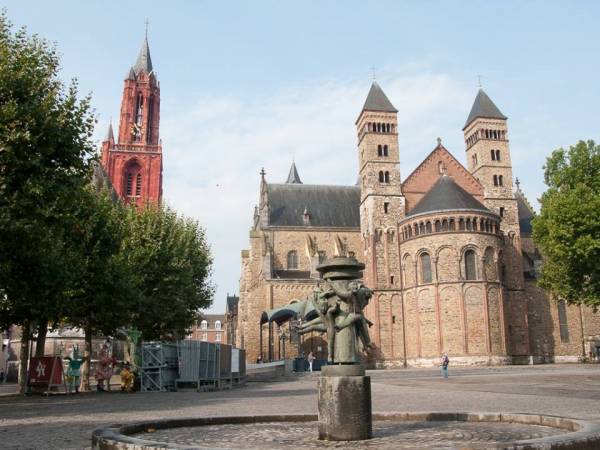 Photo: Oleksandr Bogachenko-Misevski
– Actually, the idea to go through part of Europe by bike appeared at a time when bezveze even it was not three or four years ago. Then wanted to go to Greece in late autumn, but never got out. And when bezviz has become real, a year ago I created a page in Facebook "Visa journey". And began to meet, – tells Sasha. I planned first that I would go to Portugal – from Kiev to Lisbon, or from Lviv or Uzhgorod. Then I thought: it is four thousand miles, all told me that it is very hot at this time, Spain and Portugal +40 degrees. And decided: first of all, for first big bike tours have something smaller to choose. Then I stopped at Amsterdam and city of cyclists, which I've heard a lot.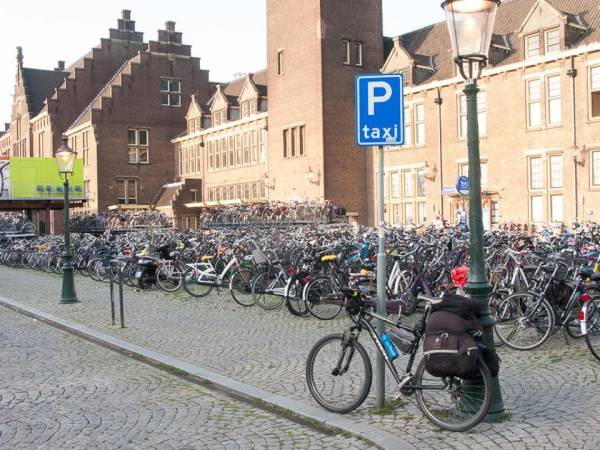 Photo: Oleksandr Bogachenko-Misevski
– How was the border crossing?
– In my experience and many of my friends who was in Europe, no one almost demanded nothing, the question is simple – where to go, how much money you have how many days. I also asked it, and not taking alcohol and cigarettes. I said frankly: going to be in Slovakia for seven days. I didn't say that I would go further because, perhaps, there would be questions to money. And so without any problems.
The day a traveler passing by on a bike up to 120 kilometers, and the next destination was chosen, focusing on the spot. "I had only the approximate route, I never come up with anything in advance. I feel so comfortable – I'm going somehow, or otherwise. Then after the fact decide. Improvisation within a General direction," – says Alexander.
Travel route: Uzhgorod – Kosice – Poprad – žilina – Ostrava – Olomouc – Brno – Prague – Karlovy vary – Bayreuth – Bamberg – Frankfurt am main – Bonn liège – Maastricht – Eindhoven – Rotterdam – the Hague – Haarlem – Amsterdam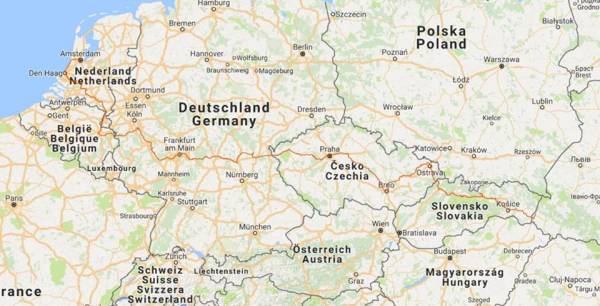 Click the map to zoom in
In the past, the traveler had the experience of wandering hitchhiker. Such a trip is also nice for the budget, but the bike gives more independence, says Sasha.
– When you're a hitchhiker – you still depend on who you see, where you will take. And here you are "self-propelled" and he determined everything: where I want to go. Well and speed of movement: the bike go slower and pay more attention to small details.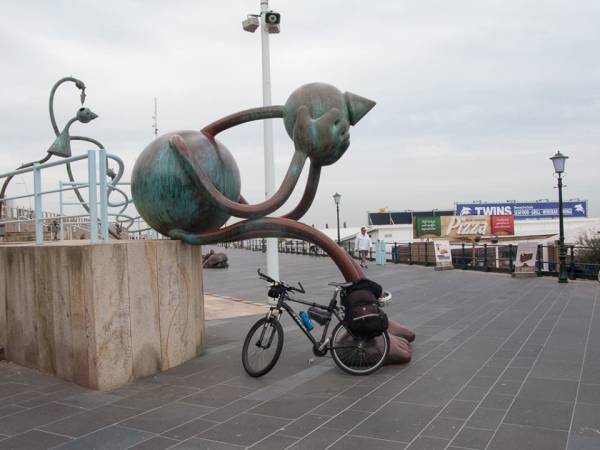 Photo: Oleksandr Bogachenko-Misevski
Bikes in Europe: individual roads and protests
In Europe, travel by bike has everything you need: a special road for dvuhkonusnyh and unusual for Ukrainian cyclists courtesy from car drivers.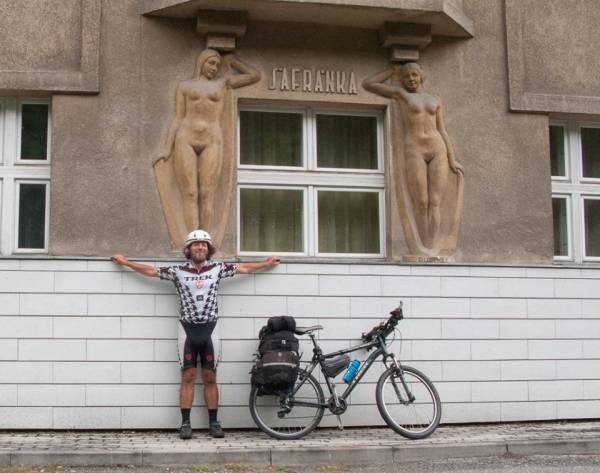 Photo: Oleksandr Bogachenko-Misevski
– There can be absolutely safe to travel by bike everywhere. For example, in countries such as the Netherlands, where one of the best valuepresenter, along any trails you can drive on a private road between the towns of dismantling the old railroad tracks that are not used, and create bike paths. A lot of these in Germany and the Netherlands, in the Czech Republic too. Large roads velomaster separated by bumpers. However, it have the right to move and little mopeds. Sometimes they are ahead of you, but none of the dangerous situation was not.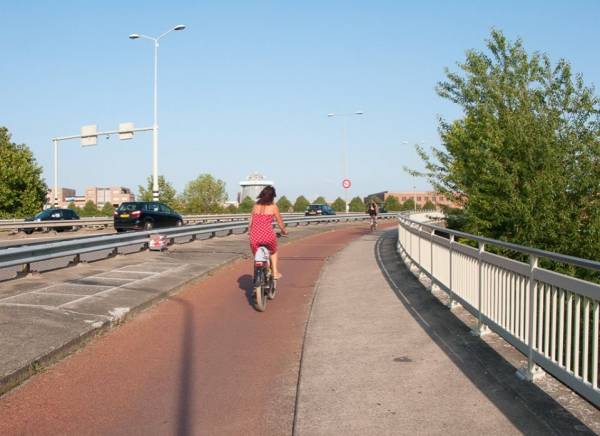 Photo: Oleksandr Bogachenko-Misevski
A large part of the road to drive on Bicycle lanes, except for Slovakia and some Czech. But the closer to Prague – everything is already laid. But I don't always use them because sometimes it's not the shortest way. But it is pleasant, always separated from cars.
In Europe the relationship between motorists and cyclists?
The situation is radically different from Ukraine. If the road is narrow – do you hear what's behind you car goes, it goes slowly to the place where the turn or road is widened, then toured with great distance. Most drivers do that. Western Europeans complained of the Slovak drivers, but even from them I never noticed the impolite attitude. I have never clipped, and honked once, I was surprised, because during the journey weaned, it was an unusual situation. In the Netherlands in General with them do not intersect, Czech Republic sometimes you have to go on the road, but it is clear that everything is going slowly, nobody ahead and not cuts.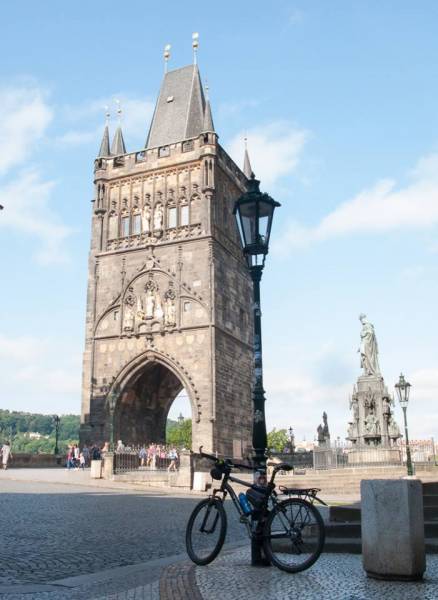 Meanwhile, the European cyclists satisfied and periodically organize protests.
In Germany I participated in "critical mass" is a movement which exists throughout the world, when cyclists gather and ride as a big group, hold all the way and nobody passed. Their motto – we do not block traffic, we are traffic. We are road users and we need to be considered.
And a lot of people going to such action?
– In Bonn was about 300 people. It turned out that they are unhappy that in some places there is no bike path, they think it's dangerous. Compared to Kiev, where there are only a few… by the Way, in Lviv I was surprised when I arrived at the bus station outside the city, there was a bike path that led almost to the center. Lions for this indicator is already ahead of Kiev.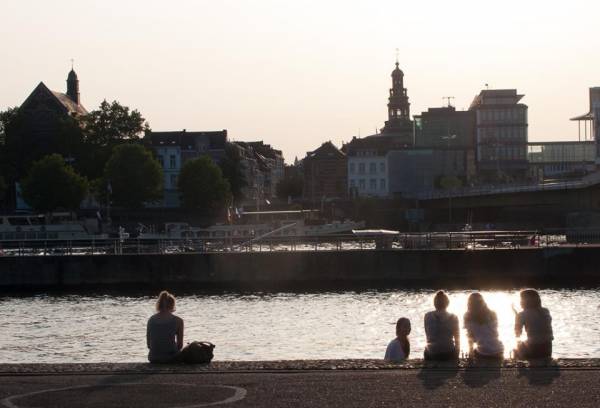 Photo: Oleksandr Bogachenko-Misevski
– Rules of the road cyclists comply?
– In Europe a break. Cyclists – the most privileged in this respect, people. In Germany and the Netherlands I noticed that break as soon as you can – at a red light, passing, out into the adjacent lane, on sidewalks go where prohibited, drive on roads where one-way traffic in the opposite direction. The police are mostly not paying attention. In the Netherlands a little stricter, he said that may be imposed for the absence of lights and beacons for 50 euros. To cyclists on the roads – the minimum requirements. Perhaps this is a conscious strategy of the city to limit the presence of cars.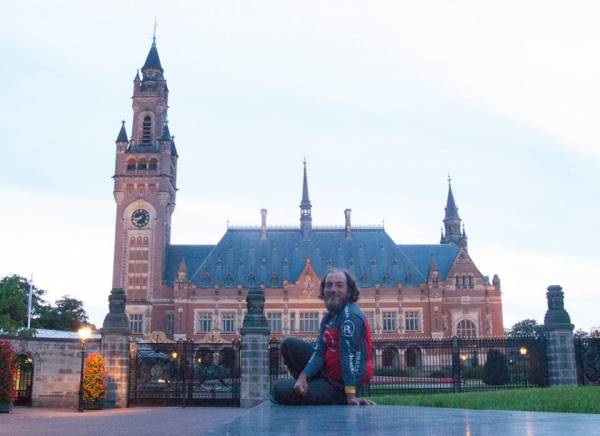 Photo: Oleksandr Bogachenko-Misevski
Features travel: money and architecture – not important
– Which country was the most comfortable during the trip?
The Netherlands, Germany and the Czech Republic. A bit inconvenient was Belgium, on the contrast between Germany and the Netherlands – and there and there, wellstructured good, but in Belgium it is worse, and the roads are in Ukraine – with pits. There is no such order, garbage more. Unpleasant moments have more to do with my own shortcomings, when in advance has not found a place to stay. I have not always been "stay", sometimes for several days, I was discharged and it was not comfortable.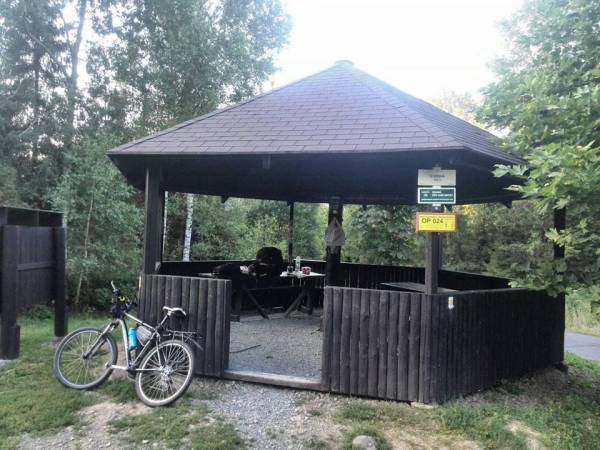 Photo: Oleksandr Bogachenko-Misevski
– Where you stayed the longest?
– In Prague, was there for two days. I planned one full, but the next day it was pouring, so still, just went to the sewer Museum, it cost about 12 euros. Very cool place, the former sewage treatment plant, floating on the ferry on the former sewage canal. In Bonn full day in Frankfurt too. Another day sat in the tent by the lake in Slovakia, talked with the locals.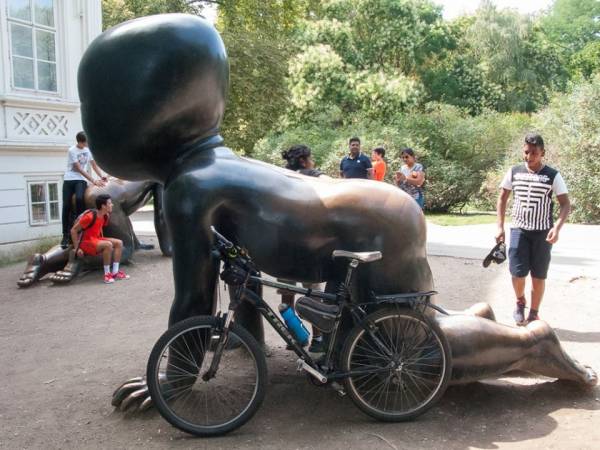 Photo: Oleksandr Bogachenko-Misevski
– Which of these cities is the most memorable?
– Everything is absolutely different. I love the city, and at the same time do not like. I like being in nature. But when I'm in town, I try to find something that would be remembered. There are many same – Central square, beautiful Church, town hall, magistrates. But in General, it is possible to see something unique. Sometimes it works – in Frankfurt, Prague, the Hague.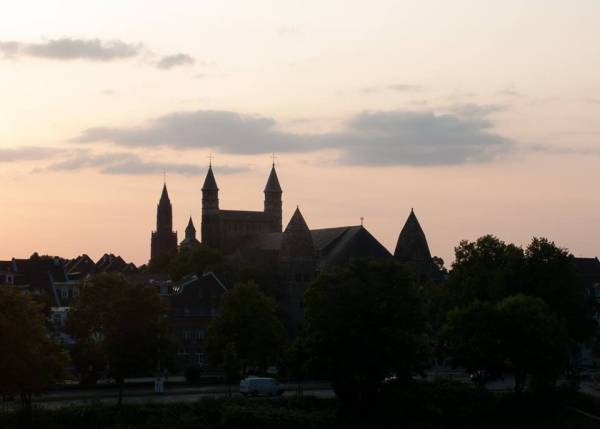 Photo: Oleksandr Bogachenko-Misevski
Meanwhile, according to Alexander, the main thing in such trips – the atmosphere of the countries and not the architectural charms.
– It is not necessary to spend a lot of time at tourist places. The longer you travel, especially if it's at a time, feelings and impressions get in the head, especially if it's "standard" – "wow, what a beautiful Cathedral", "wow, what a beautiful home" by the end of this "wow-effect" is no more, you're not paying attention. In a year you won't remember, than the Cathedral in the city Cheb in the Czech Republic differed from the Frankfurt Cathedral in Germany. And what was inside was. So it's worth the "chase" for more sophisticated experiences, to draw attention to certain points. For example, as some grandfather went to the Bank of a canal in Amsterdam and started to hum. And look for bright impressions – to see the city from a height, to dine on interesting sightseeing point. For example, struck in Amsterdam modern architecture, there all the latest.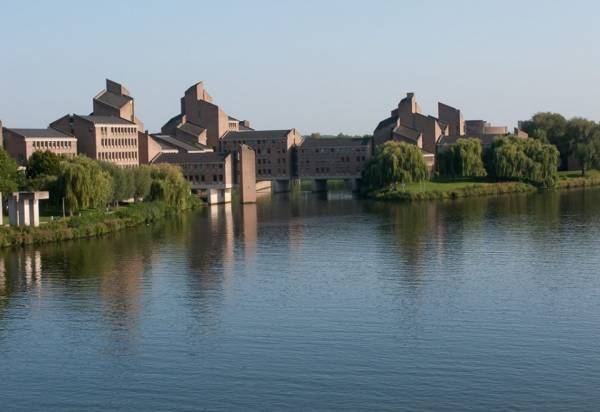 Photo: Oleksandr Bogachenko-Misevski
Budget travel: how to save on food and overnight stays
– How much money is spent during travel?
– 400 euros for a month and a half. This is for all – and back on the bus, and bike repair, which cost me 60 euros and the food. For money three spent the night in camping and once in the hostel (around 37 euros), when it was necessary to charge all – power-banks, phone, camera. Paid overnight stays was only four, the rest are free. Food in supermarkets is bought, ate cheese and sausage, sandwiches, soups.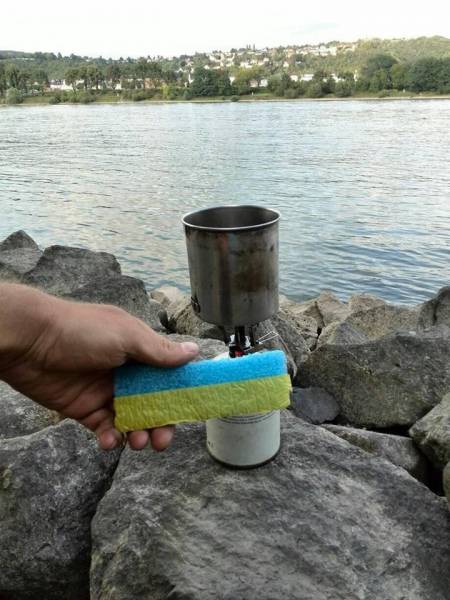 Photo: Oleksandr Bogachenko-Misevski
Expenses abroad are not much different from home, says Sasha.
– If the country is more expensive – you are guided on this, I say to myself "Oh, how expensive!" And include saving mode. If the country is not very expensive – save mode "off". In the result we come to the figure, which is more or less similar to that in Ukraine. Once I had a $ 10 a day, now it turns out a little less. The most money, oddly enough, was spent in the Czech Republic, although not the most expensive country. 20 kroner – that's almost 25 USD, but think this one to one. Therefore, less to save on food, change a tire yet. More than 100 Euro I spent there. Then in Germany looked at what the money goes too fast, and I significantly reduced costs. It so happened that there was an opportunity to live with people if you have someone live, dinner and Breakfast, as a rule, fed.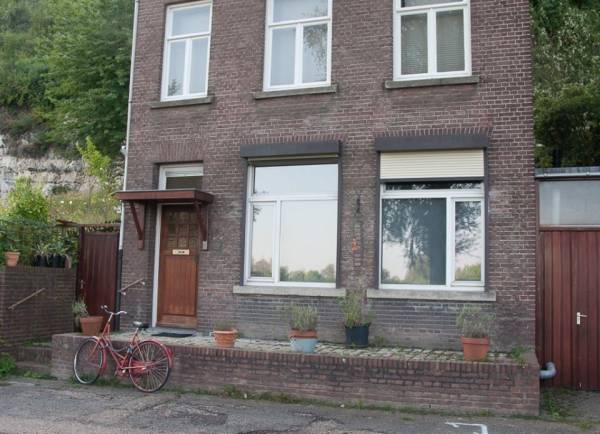 Photo: Oleksandr Bogachenko-Misevski
– Not afraid to "fit" a stranger?
When I wrote the queries about the journey of a cyclist from Ukraine, I think that some people, single girls, for example, the answer was – we have other plans, sorry we are unable. Probably, were afraid. But there were people who responded positively – OK, you can come. Met a grandfather from the Netherlands, he is 72 years old, he and his wife had three in Ukraine, on the bike here went. Was in Rakhiv, Kyiv, Kharkiv, Odessa. To Irkutsk has arrived on the bike! I asked whether there were problems, say no. I have seen many open-minded people, this garbage in their heads, like many in Ukraine, in Europe just yet. In General, the feeling that the people there are happier.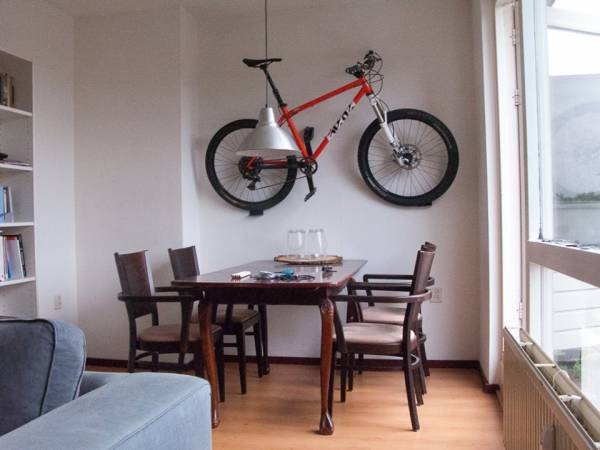 Photo: Oleksandr Bogachenko-Misevski
– In addition to "list" where in Europe are free to spend the night?
In Germany and the Netherlands it is forbidden to put up tents everywhere except in those places where it is allowed. In the Netherlands it is an official campground, there are a couple of dozen specific points, where there is a icon that you can pitch a tent. If it is not – then prohibited. In Germany only in the official campsites. In General, in Europe there is no police order, no one watching you if you do not do anything illegal – no police-no objections. If you want to sleep – anywhere, if it is not a private area where the owner watches over you. Find forest, making myself something to eat, waiting for when it gets dark, put the tent and go to bed. In the morning I get up, collect things, cook Breakfast. Just like sleeping is not prohibited. Come quietly, quietly left. Many European tourists also do so.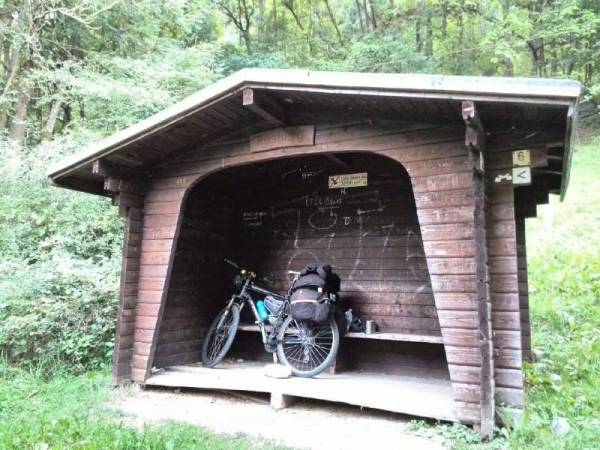 Photo: Oleksandr Bogachenko-Misevski
It is best to spend the night outside the city, there is less noise. In the city you can spend the night somewhere in the Park, under a canopy, but not with a tent, because with it you are likely to expel. We must remember that in big cities you can steal. But in a small town no crime will not. In the Netherlands once slept under the bridge over the canal. Everything was safe.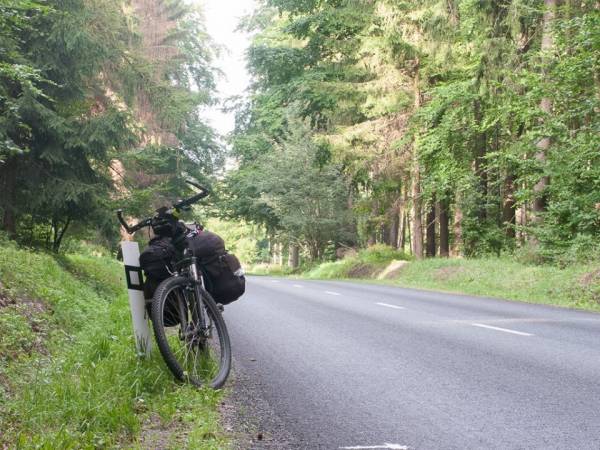 Photo: Oleksandr Bogachenko-Misevski
Journey for six weeks: what to bring
In long journeys on the bike the money is not important, says Sasha. But the means for charging gadgets should be reserved.
– You can travel with a big budget, little or no money. With a large budget trip becomes more comfortable, their every need. Definitely need to bring adapters for chargers, it is desirable to have a separate tour gps as a tool for campaigns. They work on standard penlight batteries. You can buy in any store or take with you batteries. Charging on "the list", I had two power-Bank for the night, they were fully charged. If there was a "biker" when I was staying in paid caminho – it can also be charged. Sometimes they charge extra money.
Also makes no sense to carry a lot of spare parts for the bike, in Europe they are not much more expensive than in Ukraine. So, to repair the bike Alexander spent about 60 Euro, replacing the rear wheel and tire.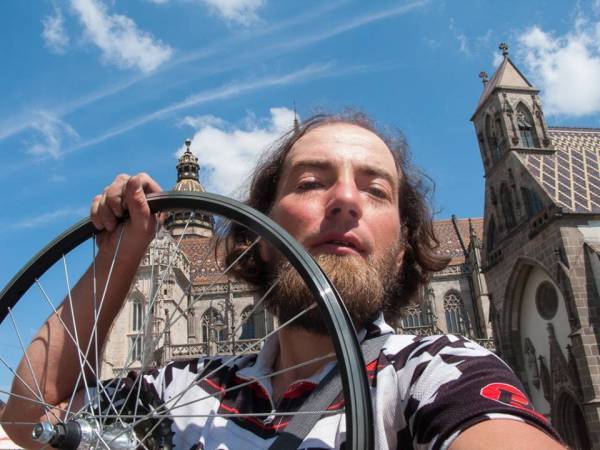 – It is necessary to take only the Essentials – a chain, the tab for cameras, lube, pump, tools, a couple of spokes. Basic things you should learn to do yourself – adjust brake, seal the lid, for example. It is necessary while traveling to do often. It is advisable to carry out a full inspection of the bike. And alert in the Studio, what do you want to drive a few thousand miles – they will advise what to take.
"The best company is yourself"
– Not afraid to travel?
Terrible to go out with someone of your friends or with the girlfriend in the evening, in the dormitory area to walk in Kiev. I don't know what to be afraid of, traveling to Europe. The more people are satisfied with life, the aggression level is less than – I never saw an aggressive or unhappy people. Although, I noticed that on the road they honk each other, but somehow one guy was "beep" standing in the tube with the girl. I listened – in his car sounded Russian music. Saw the thieves at the train station in Amsterdam, is also Russian-speakers who were discussing how to steal in the Netherlands and one of them where he sat. But I don't know whether it was from them something bad to expect, because everywhere people, not the situation, maybe if I met them in a dark alley… In a big city you can find crime, it is necessary to consider always when you're on a dark street are going where no one.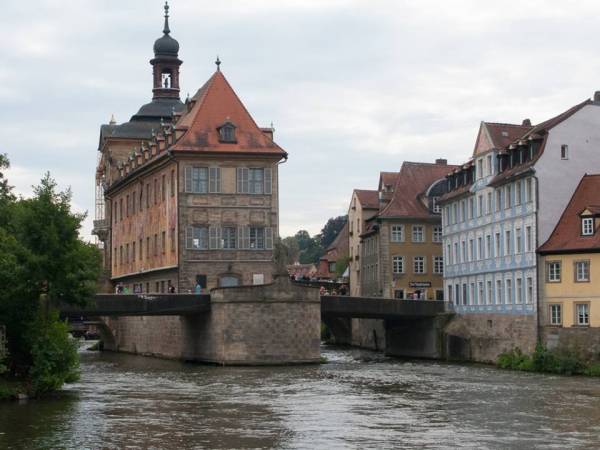 Photo: Oleksandr Bogachenko-Misevski
In nature wild animals are more afraid of people than people are of them. Food is necessary at night to hide away, because mice or some other animals cannot eat it. Mouse me a jar of coffee tried to chew through, rustling near the tent when I slept in the woods. And disasters or pirates to be afraid ridiculous.
– As it's more fun to travel by yourself or with a company?
– It depends on the company. With strangers may arise a conflict situation, perhaps you are apart of something not expect. If you have a couple – of course, will be comfortable to travel with a girl or guy. But not the fact that then your relationship will continue. Such stories, of course, a lot.
The journey is still a serious "test drive" for relationships…
– Well, Yes. There are times when it is not comfortable, it is necessary to solve something. You can travel with your friends or even with random fellow travelers, but when traveling long – better to do it yourself, or with trusted people. Well to break the journey for a few months, it is necessary that the person was not working because it's too long breaks. That is, in this format, the most realistic – yourself, do not be afraid.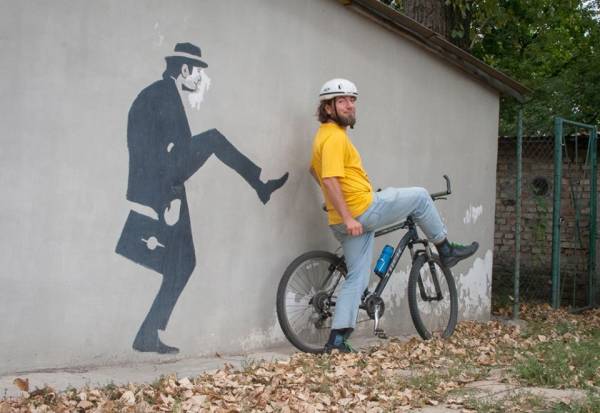 Photo: Oleksandr Bogachenko-Misevski
– Already planning the next big European trip?
– I decided that this year I will go to Amsterdam, and if all goes right, next year – on the bus or plane with a Bicycle in Amsterdam, and from there to Lisbon. If all goes well, next year I will continue the route of visa-free travel.
For me, life is a journey, I do not feel almost no pleasure from what I was doing in Kiev, sitting in the office. Perhaps we need to rethink its operations for earnings, because travel is what I like. You shouldn't force yourself to sit in the office because six months later I'm still quit, everything will bother me.
Tips: how to transport the bike in planes, trains and buses
Different companies have there own rules. When you buy a ticket, you must first read the baggage policy, contact call center and clarify all. Usually, if it's not low-cost, your Luggage space is limited only by the kilo. You pack the bike in the box so that nothing is broken and crashed. If it's cheap, most likely, will have to pay for the transportation of "sporting equipment".
Same with buses, some have rear mounts for the bike – I rode from the Netherlands to Prague. But I bike Packed and fully checked, as in Prague I had to be a transplant. If there is no mount for bike, you can completely disassemble and put in the Luggage. Sometimes you need to contact the carrier and registering it.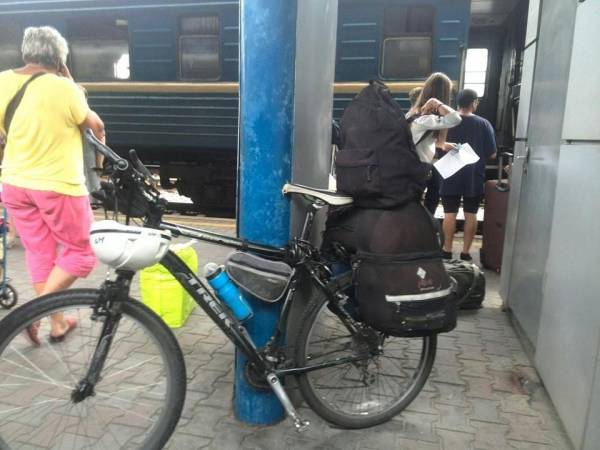 Photo: Oleksandr Bogachenko-Misevski
Sometimes the trains have special cars where bicycles can be transported. Can you find a transportation option Bicycle. But not all carriers.
Comments
comments