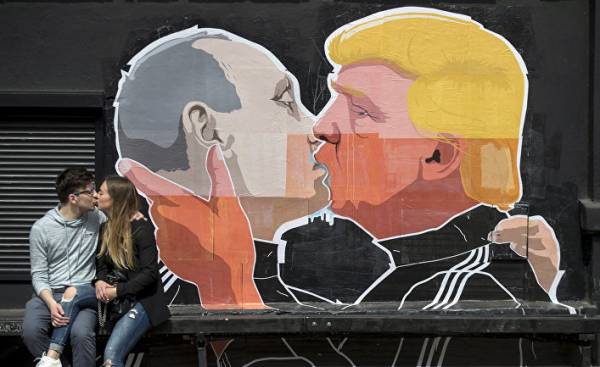 The relationship to powerful men. Yes, there is fantasy play. For example, trump and Putin: they sit with naked torsos on one horse, trump is shaking behind Putin and stroking his nipples. A variation on the famous photo of Putin Topless on a horse. Or: trump thoughtfully stroking the hair on his chest Putin. Or, trump and Putin in leather BDSM clothing, Putin holds a trump on the chain of a slave. These are just three of the countless montages and memes that months are flooding the Internet and social networks. Some of them printed on t-shirts sold.
Presidential erotica piercing even to television when the creators of the American Comedy show Saturday Night Live took a twist for the sketch where they talked about the absolute dependence of the penultimate press Secretary Sean Spicer (Sean Spicer), in his role as Melissa McCarthy (Melissa McCarthy) from trump's (Alec Baldwin, Alec Baldwin), they forced the actors passionately kiss each other. The audience screamed in delight. Only when the comedian Stephen Colbert (Stephen Colbert) to his show the Late Show in the context of a rebuke of Russia said that trump's mouth is only good for one thing, and that in order to suck Putin in the U.S. rose some protest. The editors of "Queer Voices," the Huffington Post released the headline: "We must in the end cease to come up with gay jokes about trump and Putin." They were right, but neither the Federal communications Commission (FCC) nor the Ministry responsible for broadcasting and censorship, did not Colberto no comments. Because he is actually a good liberal, or because the word dick ("dick") beeped?
Attempts to make fun of masculinity very often over the fact that she gets a "blue" character
Anyway, jokes of this sort is not only cheap, but simply homophobic. By definition, homophobia is a social antipathy directed against the lifestyles of gays and lesbians. And aversion to their sexual life. This antipathy or a reminder of what she once recently prevailed in much of society, manifests itself in jokes of this kind, Yes, but thanks to her, they are popular.
In the era of the tramp, which seem to have anticipated any satire, perhaps, on the surface the idea was to come off on the fact that trump and Putin certainly masculine. But attempts to make fun of this masculinity often lead to her "golubiny" that denigrates and patologicum homosexuality. Trump and Putin have a lot in common: they are extremely domineering, authoritarian and ruthless, they are chauvinists and do not perceive seriously neither justice nor democracy. But do they excite each other? Unlikely.
Apparently, male friendship has long been under suspicion
With a gay laugh with everyone. What is somewhat puzzling. And leads to probably too bold attempt of an explanation may be that many gay people — after decades when public demonstration of the needs of homosexuals was banned, still a reflex used to be considered a wild form of two publicly kissing and hugging men? No matter who and in what circumstances? Possible. Meanwhile, should think twice, when their own unconventional sexuality for the sake of laughter trampled into the mud.
How scandalous is the cult of masculinity, evident in the fact that gay jokes about public figures not only go on such villains as Putin and trump. When, in June, Barack Obama and Justin Trudeau met for dinner in Montreal, BBC News meticulously listed, what was listed in their "menu of brotherly love". When at the end of may in Italy Justin Trudeau and Emmanuel macron met each other at the G7 summit, edition of Stern wrote that first meeting between them "have chemistry". The Süddeutsche Zeitung also wrote about this meeting on the website jetzt.de that it is "the beginning of a new brotherly love politicians", and was meant to produce the impression as if Trudeau and the macron are "at your own wedding".
In itself the word "bromance" (brotherly love), which became a popular blend word in the past year, especially in the United States ("bromance" — "brother-romance", "brother-romance/romance"), is inherently homophobic. In fact this word must denote a close Platonic friendship between men. Probably a new concept started to be used due to the fact that the close Platonic friendship between men came under constant suspicion since, as a few decades ago when sexual interaction of science and homosexual freedom in Western society was formed all the obvious identity category "gay". It has led to significant restraint on the part of heterosexual men and complex maneuvers on the delimitation.
Obviously, heterosexual men have to constantly prove that they're not gay. Today, any shaking hands and smiling among men — note the bromance! — can be erotizirovannymi and sexually interpreted. Seems no longer the way back, in the bosom of a woman. The problem is that homosexual desires thus ridiculed. This is something that needs a long time to hint, but then right again to delete — it seems that the average weight paranoia and does not cause laughter. Statesmen should be just public figures. And the villains are just villains.
And gays leave their beautiful gay sex.
Comments
comments