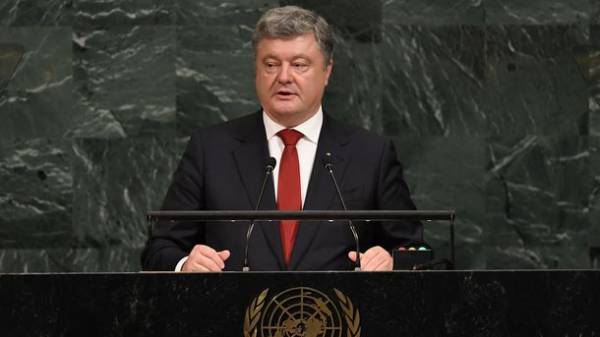 Russia is sending to Syria of military equipment on ships based in the ports of the occupied Crimea, using the Peninsula as a military Outpost, said the President of Ukraine Petro Poroshenko.
"What attracts our special attention in the context of this bloody conflict is the use by Russia of the occupied Crimea as a military Outpost for the design of military force in Syria. While there is a war, a large number of Russian military equipment is being transported to Syria by ships based in the ports of the Crimea", – said the President, speaking at the General debate of the 72nd session of the UN General Assembly on Wednesday in new York.
Also Poroshenko said that the Crimea became a territory of repression. "Everyone who does not agree with the Kremlin, are deprived of their liberty or even life," he said, Recalling the persecution of the Crimean Tatars and Mejlis, which was prohibited due to the Russian occupation.
SEE ALSO
Poroshenko speech at the UN security Council: the full text
Previously Petro Poroshenko spoke at a meeting of the UN security Council formally calling for an international organization to enter a peacekeeping mission in the Donbass.
Comments
comments