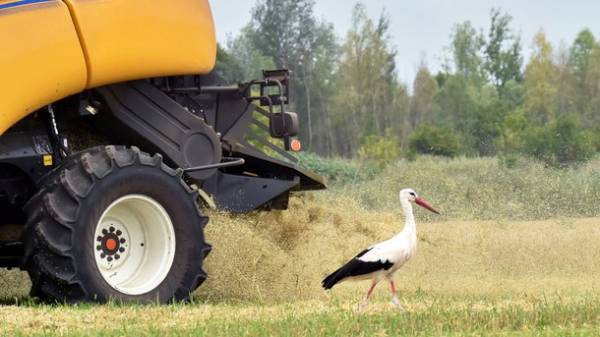 The Ministry of economic development (MEDT) presented the export strategy of Ukraine, which aims to help our business in active winning of foreign markets. According to the document, the authorities plan to rely on seven sectors of the economy. We are talking about agriculture, information and communication technologies, maintenance and repairs of aircrafts, manufacturing of spare parts and components for airline and aerospace industries, mechanical engineering, tourism, creative services (design, cinema, fashion). In the Ministry believe that these industries will enable our country to build closer trade relations with 75 countries, among which special attention will be given, for example, USA, Japan, UK, Canada, France, and China. If the export strategy will be implemented correctly, which, in particular, it is planned to introduce more than 50 legislative, organizational, educational, innovative tasks, then you will be able to restore the huge potential of foreign trade, it is only in 2015, according to experts, Ukraine nedomolvili about $6 billion Perspectives and problems of development of our exports found "Today".
PROBLEMS. It is no secret that the current situation with the export of Ukraine is not the best, because from 2012 to 2016 the sale of our goods abroad decreased almost twice — from $82.2 billion to $44.9 billion In the Ministry it explain the decline in demand for Ukrainian products and unfavorable market conditions in the international markets, the deterioration of finasterie domestic enterprises and lack of access to credit, limiting the export of our goods to the Russian market and transit through its territory to third countries, increased cost of domestic products, the continuation of the military conflict in Donbas and annexation of Crimea. All this makes our businesses to find new markets, analysts said, because, despite the current problems, Ukraine has something to offer abroad.
RANGE. According to the Ministry, in the structure of our foreign trade 81% of production accounted for export of goods. And here are mostly traditional industries — agriculture and food industry (share in exports — 42%), metallurgy (22,9%), engineering (11.9 percent), building materials (7.5 percent), chemicals (4.3 percent). These goods manufacturers now actively sell not only in the CIS or the EU, but also in Egypt, Turkey, India, China, Belarus, Iran, Saudi Arabia, and Israel. And, according to experts, the potential of our exports is very large, but Ukraine should get away from the reputation of raw power and rely on the production of goods with added value. That is, for example, it is possible to sell not only metal, but also ready vehicle.
Present in the structure of foreign trade and services accounted for 19% of exports. And all because in Ukraine, a good logistic arrangement, analysts say, so long time, our country is engaged, in particular, the transportation of oil and gas. But in addition to transport, in the service sector include tourism and construction. However, in recent years, our business has been increasingly involved in the creative approach, so there are new ideas in the telecommunications, computer and information directions. This approach is in demand abroad, experts say, because the rapid development of such technologies requires innovative solutions during travel, recreation or work.
We feed China and Africa
According to experts, agriculture and food industry are known as one of the key drivers of the Ukrainian economy in the overall structure of Ukraine's foreign trade, these sectors occupy 42%. This is why export strategy strives to increase production and sales of these products in foreign markets. Moreover, the prospects for growth of demand for products is constantly growing worldwide. Therefore, analysts believe that in the next 5-10 years, Ukraine has big chances to gain a foothold as a major agricultural provider in the Middle East, South Africa, Indochina.
"China is concerned that the region's rapidly growing demand for food. The purchasing ability of the population grows, the economy grows and the reserves for increasing production they have. Therefore, the region will be forced to increase imports of grain, meat, milk. In this respect, these countries consider Ukraine as one of the most interesting vendors", — cites the example of the MP and the President of Ukrainian agrarian Confederation Leonid Kozachenko.
PLANS. But in order to become a successful exporter of agro – and food produktsii, it is important to implement abroad is not only a raw material in the form of, for example, grain or corn — you need to focus on manufacturing products with high added value. It can be anything: jam, ketchup, juice, chips, butter, cream, frozen vegetables, etc. And such tasks may be of interest, primarily to small and medium businesses only think about the introduction of innovations, implementation of niche products. "The purpose of primary processing SMEs can be combined into clusters or cooperatives. Such a model of cooperation in the future will be able to get financial support from the state", — said Deputy Minister of agrarian policy on European integration Olga Trofimova.
Businesses need trade mission
As for plans to increase exports, the strategy says: you need to create a common system of business support for the promotion of products, develop infrastructure, introduce innovations, to improve conditions for the implementation of the investment, hold foreign exchange liberalization, improving tax/customs regulations. It is planned to create an Export credit Agency, to organize programs to support exporters, to implement a trade mission to promote the online trade, to modernize education. "It is important to accustom business to the commodity and geographical diversification — it is desirable that the company traded in one or two foreign markets, and ten. Then a regional war or crisis will not hinder the development of exports," said economist Andrew Zablovsky.
Comments
comments