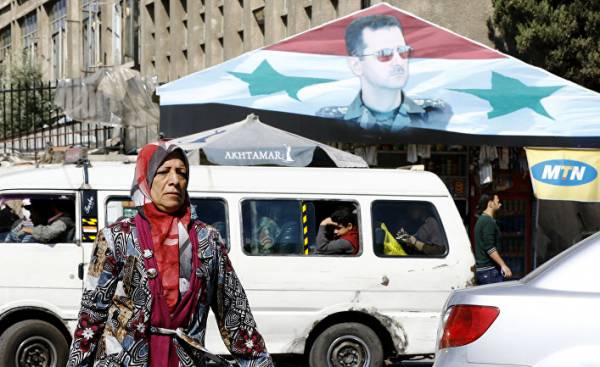 Yesterday in the American press there was a photo of President Donald trump and the country's top leadership. Under the photo was a caption stating that the President and his team discussing a missile strike on Syria. The impression that this meeting, like the meeting with the representatives of the General staff, was held in opposition to the meeting held by the Russians and Iranians, which were also published in the press. Meeting of Moscow and Tehran, touched on the bombing in Syria, which may be a response to what both countries see as a violation of the law of the United States. If this is true, the conflict in Syria on different fronts is transformed into the Russian-American confrontation, but on Syrian soil. Is this likely to happen?
The passions in the Syrian crisis suggests that things are moving at the end. All estimates point to the idea of partition, which, ultimately, will not solve the problem of instability in the region. The problem will not end until, until the new hand resulting from the division will be to continue the policy of following the opinion of the great powers.
The regime will continue to exist on the side of Moscow and Tehran, the other will go in the direction of America and Turkey. This again means continuing tug-of-war, causing anxiety and concerns of Israel. The latest in this case initially is the most important player.
During the crisis, it became clear that out of Iran and put an end to the existence of Hezbollah for the Israelis appeared to be a significant strategic goal. Iran is the only threat to their existence, and in the circumstances it appears that the division of Syria will not happen as long as there is an Alliance of Russia, the Assad regime and Iran as their partner. Is it possible to convince Moscow and Damascus to abandon Tehran in exchange for a deal? Of course, it's complicated, but the easy way out here. At least it's easier than to persuade Iran to change its position regarding the Zionists.
Returning to the meetings of the General staff of the United States and statements by Moscow and Tehran to respond to us bombing, it is obvious that in this scenario, the subsequent events in the Syrian case can be dramatic and incomparable with all existing assumptions.
Comments
comments