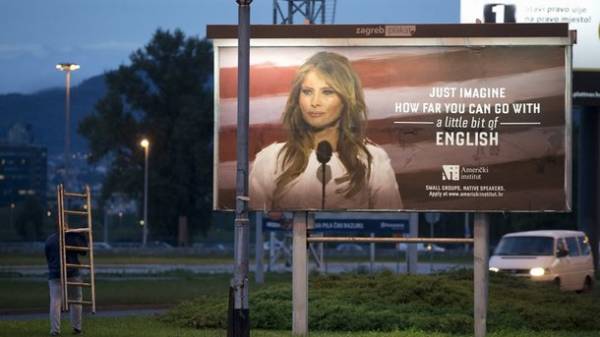 In the Croatian city of Zagreb has removed billboards with a photo of Melanie trump after threats of a lawyer representing the interests of the wife of the President of the United States, the Associated Press reports.
Advertising placed by the company, which provides services for teaching foreign languages. The poster of the first lady stands before a microphone on an American flag background. "Just imagine how far you will go in knowing a little English," written next to English.
Slovenian lawyer Natasha, Pirc-Musar (Nataša Pirc-Musar), represents the interests of trump, demanded to immediately remove the ads, which illegally used the image of the wife of the President of the United States.
SEE ALSO
Fashion 47-year-old grandmother from Italy showed the network a perfect figure
The advertiser broke the campaign and apologized. However, Pirc-Musar says that the conflict has not been exhausted. It requires that apology issued by Croatian and Slovenian state news Agency.
The company claims that advertising has been extremely successful. Because of the conflict with the trump of her told the media in Croatia and in other countries.
The Melania trump was born in 1970 in Slovenian town of Novo mesto, which, like Zagreb, then part of Yugoslavia. In the late 1980s, the future first lady began a modeling career. In 2005, married 59-year-old businessman Donald trump, whom she met in 1999 on the new York fashion week.
Comments
comments