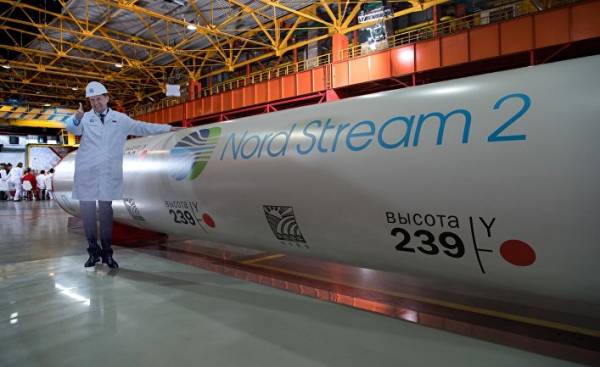 "These measures risk breaking transatlantic unity and the unity of the G7", — said in an internal note of the European Commission. This writes Ryan Heath's article "Brussels is preparing to strike back at the US because of Russian sanctions." The European Commission within a few days plans to strike back at the US, if they agreed new sanctions against Russia, which may be finalized by the end of the month, and make European energy and other companies vulnerable to U.S. intervention. The draft law, the US sanctions will target Russian energy, Finance, Railways, shipping, steel and mining industries.
Republicans and Democrats agreed on the sanctions on Saturday, and the House of representatives needs to vote on the bill on Tuesday. According to an internal note prepared for the commissioners, Commission President Jean-Claude Juncker is especially concerned about measures related to energy, which, in his opinion, can be unfairly used against European energy companies. In the note of 19 July States: "Measures risk breaking transatlantic unity and the unity of the G7" against the Russian occupation of Crimea. The draft sanctions will give the US President Donald Trump the right to impose sanctions on any company (including the European), which contributes to the development or operation of pipelines for energy exports in the Russian Federation or in Europe, or involved in oil ventures with Russian companies.
Most affected are actively discussing the gas pipeline "Nord stream-2" from Russia to Germany, which itself has become a source of political controversy in the EU, although in a note the Commission said that "in fact, the effect will be much larger". Germany and Austria attacked the sanctions proposed in June, accusing the U.S. of politicizing their economic interests in the sale of liquefied natural gas to Europe, which will compete with projects such as "Nord stream-2" or "southern gas corridor" in the Caspian sea. Because of the participation of Russian companies under threat may also be oil and gas projects in the Caspian sea, the transit of gas through Ukraine and the Deposit of Zohr off the coast of Egypt.
The European Commission mitigation will be divided into three areas: 1) the Requirement for public statements from the US administration (such as the statement of President Barack Obama in 2014) that the authority granted will not be used against European companies. 2) Use of "Blocking of the Charter of the EU," the EC regulation (Council Regulation 2771/96), which States that no decision based on the ex-territorial laws of the United States may not be enforceable in the EU. 3) a Possible response of the world trade organization. A source at the European Commission said that the changes made to the bill at the end of last week, "is much more in line with the interests of the EU".
Comments
comments