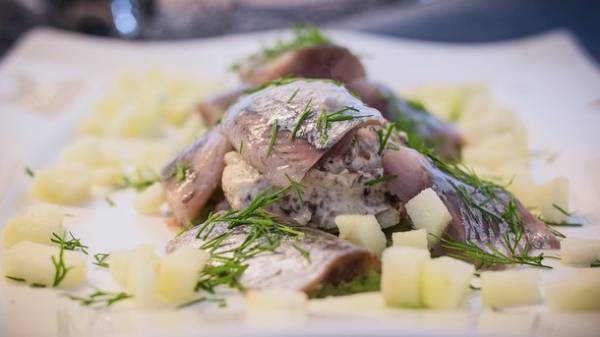 Ukraine tops the ranking for the buyers of herring in Norway. So, for the first 8 months of 2017 Ukraine imported almost 20 thousand tons of this production – 25% of the total volume of herring, which Norway sold in the foreign market. For comparison, all EU countries over the same period, imported 30 thousand tons. This was announced by Director General of the Association "Ukrainian importers of fish and seafood" Dmitry zagumennov, reports "info-SHUVAR".
"We remain leaders in the volume of imports of Norwegian herring and annually reinforce this status. From January to August, 2017, we have increased the volume of imports of herring by 5% compared to the same period in 2016, and for all of 2016 compared to 2015 the increase in General amounted to 30%" – said zagumennov.
The expert noted that the demand for other types of fish and seafood in Ukraine also continued to recover for the second consecutive year. In 2017 it is expected another increase in consumption, according to preliminary estimates of analysts, in this season, the country imports more than 320 thousand tons of fish products, i.e., at least 5% more than in the previous season. In monetary terms, the import volume will increase to $ 500 million.
"Even more correct to speak about the restoration of the lost volume of consumption after a significant devaluation in 2014-2015. To 2013 figures we, unfortunately, still far away. Dynamics of imports is the best marker of fish consumption in Ukraine. We do not have their own fishing fleet and a private Maritime fish, which should be a large part of fish diet on the recommendations of the CEO and who. That is why the dependence on imports on the Ukrainian market of fish and seafood coming years will be very high. Import substitution should be considered as the basis of the development strategy for the Ukrainian manufacturer. However, we should not forget about export prospects, they also exist," – said zagumennov.
As you know, over 80% of the fish market in Ukraine belongs to imported products. Most of the fish Ukraine buys frozen. Norway is the main supplier to Ukraine from this country we supply about 22% of all the fish in second place is Iceland with a share of 16%.
Previously, experts predicted that low fish consumption in Ukraine will continue to fall. According to experts, imported fish, the Ukrainians can not afford, a domestic product sold in stores rarely.
Comments
comments