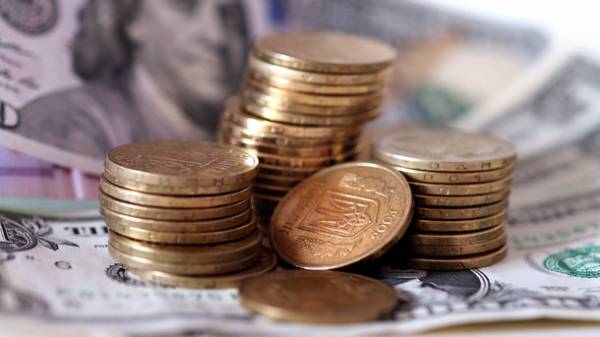 Today, 18 September, the national Bank of Ukraine (NBU) has established such rates of major foreign currencies against the hryvnia:
1 USD – UAH 26,22;
1 Euro – 31,37 UAH;
10 Russian rubles – UAH 4,55.
Thus, the dollar, compared to yesterday's values increased on six cents. Last week the rate has increased by nine cents. The last time the dollar rate in Ukraine remained at that level in early June-2017. According to experts, the country began a seasonal devaluation. At the same time, the NBU nod to psychological factors and explain that the seasonal factor has started to lose its traditional weight in the currency market.
The Euro jumped 28 cents. The Russian ruble is "recovered" on a penny.
On Friday, September 15, the dollar on the interbank foreign exchange market increased by six cents in the purchase and sale; the auction ended with quotes of 26.21 – 26,24 UAH/USD. Euro on the interbank market were traded at the level of 31.36 – of 31.39 UAH, down 28 cents. Today's auction has not started yet.
SEE ALSO
What will happen to the dollar in Ukraine in the near future and what impact the new course
Recall that under the baseline scenario, Ukraine's first three-year Budget resolution, in 2017, the average annual hryvnia exchange rate is projected at 27.8 million UAH/USD., in 2018 on the $ 29.3 UAH/USD., in 2019 – 30.5 UAH/USD. and in 2020 – 31 UAH/USD.
The same figures for 2018 incorporated in the draft state budget, which is September 15, the Cabinet submitted to Parliamentetc
The experts at the end of the year give different predictions: in the Razumkov Centre promise a course in the area of 27 hryvnia in the second half, and Concorde Capital assume that at the end of this year the dollar will cost 28,5 hryvnia.
For 2015, the hryvnia depreciated by halffor 2016 devalued by 12.9%, and for the first half of 2017 strengthened against the dollar by 4%;
According to the "big Mac index", the dollar in Ukraine has to cost a little more than 8 UAH;
The historical maximum the official rate of the dollar – 30.01 UAH. – was made in Feb 2015. The historical maximum of the Euro – 34,04 UAH.
Comments
comments