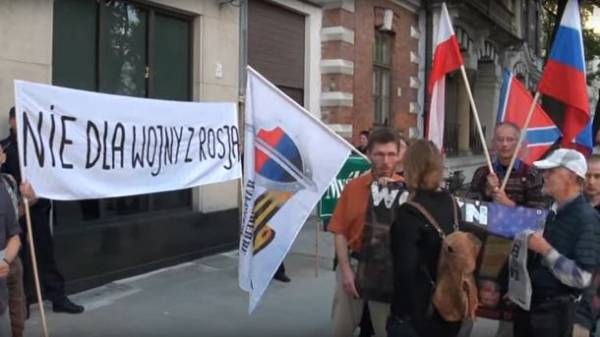 Belarusian Alexander Usovsky received from Russia 100 thousand euros to Finance anti-Ukrainian groups in Poland. This is the first specific amount, which became known for its Ukrainian hacker groups and Cyber CyberHunta Alliance. This writes the Polish newspaper Gazeta Wyborcza, adding that hackers broke into the email Usolskogo and stole his personal correspondence with Russian officials and leaders of the Polish nationalists, according to ZN.ua.
"Kidnapped by Ukrainian hackers data are the first concrete evidence that Russia is pursuing in Poland anti-Ukrainian operations, and its allies, as in Western Europe, have become right-wing radicals", – writes the edition.
In particular, Alexander Usovsky corresponded with the Russian Deputy Director of the Institute of CIS countries Konstantin Zatulin. Usovsky assured him that not only to spread Pro-Russian propaganda, but also effectively "to drive a wedge between Poland and Ukraine." Zatulin himself confirmed to Gazeta Wyborcza, in contact with Belarus, but insists that the money he gave. The publication notes that the Russian officials can speak the truth.
Because stolen by hackers letters that Osowska 2014 paid associates of Russian oligarch Konstantin Malofeev, who had previously been accused of funding clashes in Crimea in spring 2014, as well as militias in the East of Ukraine.
The publication writes that people Malofeeva paid Osowska 100 thousand euros. Most of this amount went to pay for the actions of radicals in Central Europe.
So, Alexander Usovsky organized several demonstrations in Poland, which was attended by 100 people. Usovsky constantly sent reports to Russia about the costs.
One of these documents, on 23 August 2014 he managed to organize a demonstration in front of the Embassy of Ukraine in Warsaw. In the campaign under the slogan "Stop the Ukrainian aggression in the Donbas," was attended by 70 people. The application for it was filed by the party "Self-defence", which in 2006-2007 was part of the ruling coalition along with "Law and Justice". September 6, 2014 in Warsaw, rzeszów and Lublin Usovsky financed demonstration under the slogan "Stop war in Ukraine! Stop the crimes of Bandera!". It took part of the nationalist organization "Camp of great Poland" and "world Congress of Crecy". Demonstrations were held under the Ukrainian Embassy and the diet building.
Usovsky also secured placement of articles in the press about organized his actions and posted several videos on YouTube. So he acted in Hungary and Slovakia.
The publication writes that Usovsky successfully collaborated with Mateusz Piskorski, who founded an openly Pro-Russian party of "Change". They discussed the further anti-Ukrainian actions and the reaction to them from Moscow.
As you know, Polish security forces have arrested a Piskorski for espionage in favor of Russia against Poland.
Stolen by hackers the letters also show that 63-year-old Wojciech Wojtulewicz, who collaborated with the "Self", the "Camp of great Poland" and "Change" were received from Usovskogo money.
Earlier, the Ambassador of Poland in Ukraine Jan Peklo, said that today Russia is doing everything to drive a wedge between Warsaw and Kiev.
Comments
comments