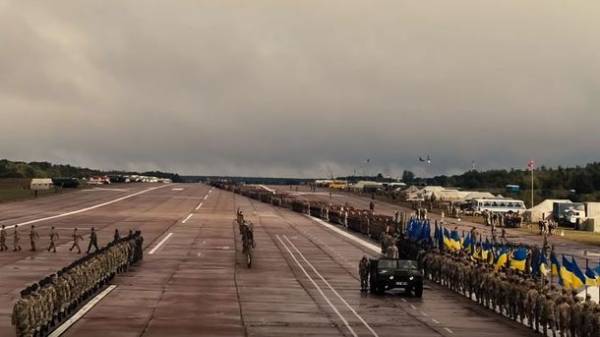 Ukrainians in the parade on Independence Day which will be held in Kiev on 24 August, expect a lot of surprises related to the history and traditions of the Ukrainian troops since the Army of the Ukrainian people's Republic. About it reports "UKRINFORM" with reference to the press service of the Ministry of defence.
So, on Khreshchatyk will be the group of standard-bearers in the new ceremonial uniform with battle flags of the troops of the Ukrainian people's Republic.
"They will first come with a flag of the First Ukrainian Cossack regiment named after Bogdan Khmelnitsky, who in 1917 participated in the parade on Khreshchatyk street. The parade also will carry the battle flag of the Third Iron rifle division of the UNR Army," – said the defense Ministry.
Combined brass band will perform Zaporozhye March for ceremonial military events, written by composer Mykola Lysenko, who used the Army of the Ukrainian national Republic.
It is expected that military units will be officially named historical figures, in particular, the UNR Army Colonel and founder of OUN Eugene Konovalets, Hetman Ivan Vyhovsky, King Danylo Halytsky.
This year the solemn military parade for Independence Day on Maidan Nezalezhnosti will involve more than 4.5 thousand Ukrainian servicemen. Foot March will be about 3,100 employees and another five hundred – members of military bands.
SEE ALSO
The staff showed a rehearsal of the parade from the height of bird flight
In addition, according to the plan, the March will be attended by the reservists of the anti-terrorist operation and members of the partner countries. The parade will include about 70 pieces of military equipment. Of these, 25 units of brand new technology, developed at Ukrainian plants. The rest of equipment – upgraded.
In the solemn event will be attended by military units from about 10 NATO countries and Georgia.
In the parade the servicemen of the guard of honor will show the updated form samples. Soldiers of the National guard of Ukraine will also demonstrate a new form of garment, created with the global trends.
As you know, August 24 in Kiev on the street Khreshchatyk and independence square held a parade and display of weapons and military equipment of the Armed forces of Ukraine.
Earlier it was reported that the Georgian military led by defense Minister Levan Izora will take part in the parade on the occasion of independence day of Ukraine on August 24.
Comments
comments