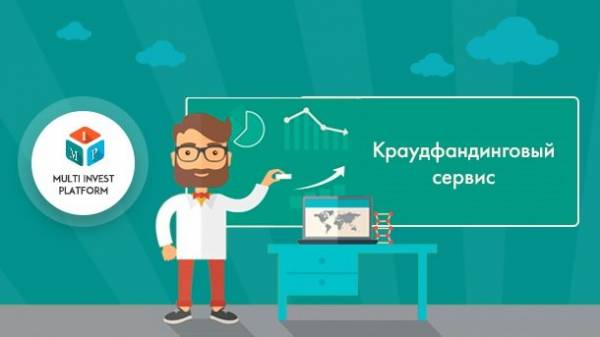 Increasingly we hear news of exciting projects marked "funds were raised via crowdfunding". But few know what it is. Crowdfunding is the collective financing of a single project, a special way of investing money. This is not a standard method of investing, having several distinguishing features:
– real and clear goal — to raise money from many donors, the recipient must set yourself a specific task and talk about it in an accessible form to depositors. For example, such a purpose can be a charity fundraiser for the treatment or search of money to record a new clip of an aspiring musical group. Spending money for other purposes is not allowed.
– Limited time recipient sets a clear deadline by which the money must be collected, and leads his countdown.
– High risk donor has no guarantees that his investments will pay off. The recipient did not always have a return on investment — for example, in the case of charges of charity or creative projects.
– Lots of directions on crowdfunding site can be combined completely opposite types of business: collection for the construction of a shelter for the poor and investing in cryptocurrency trading.
– Full transparency of the project at any time, each user has access to the data on the planned amount of the collection, figure collection at the moment, timing and financing. Openness is the main principle of crowdfunding.
– Regular reports on the results of donor should receive full information on the progress of the project. And what is interesting: if the project failed, the money's not going back, but if the recipient has not done enough to implement, he is obliged to return the invested.
Crowdfunding is a popular worldwide thanks to its ability to identify the really interesting projects. In this sense, it can be used not only as a way of investing, but also as a method of measuring the interest of buyers and consumers.
Over time, crowdfunding has evolved from polulineinogo collecting money for treatment of sick children in a powerful way the development of promising start-UPS. Numerous sites in Europe and the United States has successfully collected large sums for the invention and manufacture of new gadgets and devices. In Ukraine this movement still poorly developed, but in our country there is a popular site for investment and earning with the help of crowdfunding. One of these sites – Multi Invest Platform. On this portal you can invest in 4 areas: cryptocurrency trading, sports betting, start-UPS and business exchange services. Qualified and experienced managers invest the money of their donors in profitable projects, thus developing your business and allowing you to earn investors. All the information about the progress of the project is open and available at any time. MIP Capital — a good start for a new project and the opportunity to capitalize on an interesting idea.
Multi Platform Invest – https://mip.capital
Comments
comments