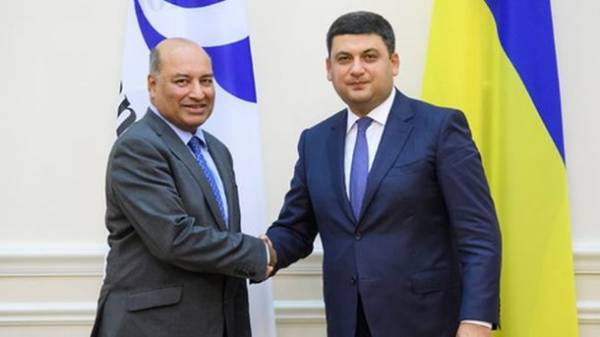 The Ukrainian government is ready to use the window of opportunity for implementation of joint projects with the European Bank for reconstruction and development (EBRD), said Prime Minister of Ukraine Vladimir Groisman.
As reported on Thursday the press service of the Cabinet of Ministers, Groisman during the meeting with the EBRD President Suma Chakrabarti stressed that the interaction of the Ukrainian government and the EBRD is very active, and the intensity of the negotiations indicates a heightened attention to Ukraine, so the government is ready to use this window of opportunity to implement joint projects and the continuation of reforms.
"We are interested in intensifying cooperation and increasing the volume and number of projects that can be implemented in Ukraine", – said Groisman.
He noted that next week the Verkhovna Rada will consider bills on judicial reform and changes to the pension system.
Also, according to him, is the actual Parliament bill on privatization, which was developed together with specialists from the EBRD and contains qualitatively new approaches to the sale of state assets and the principles for the protection of investors ' rights.
"The questions are difficult but those are the areas where we can get success," – said Groisman.
The Prime Minister also promised that on Friday, September 15, the Cabinet will submit to Parliament the draft state budget for 2018. "And this is the second time the government introduced the draft budget with strict compliance of the terms stipulated by the legislation", – said the Prime Minister.
In turn, Chakrabarti noted that the return of Ukraine to economic growth is a very good sign. "I think this is very good news. Still a lot to do and a long road to recovery, but Ukraine is moving (in this way)," said Chakrabarti.
According to him, Ukraine remains among the countries – the largest investment by EBRD and the Bank's management relies on the successful implementation of a number of already initiated joint projects in the private sector, in the gas sector, the municipal and railway transport, as well as in the reform of major state companies.
"We believe in Ukraine as one of our largest markets. This is a powerful signal for other investors," said Chakrabarti.
Earlier the President of Ukraine Petro Poroshenko in Kiev on 14 September met with President of the European Bank for reconstruction and development (EBRD) Suma Chakrabarti Amount. In the course of the meeting thanked for the constant support to EBRD reforms in Ukraine and expressed hope for further strengthening of relations.
Comments
comments