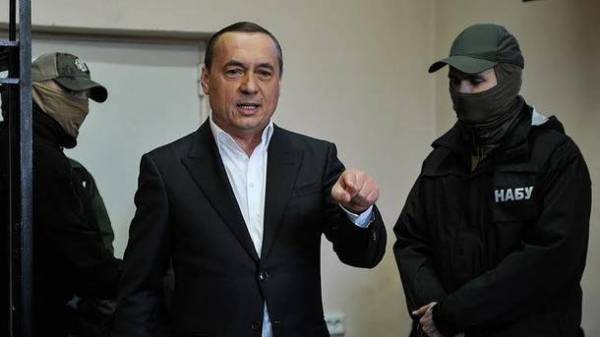 Solomenskiy district court of Kyiv in its ruling concerning election of a measure of restraint to the former people's Deputy from faction "people's front" Mykola Martynenko decided to hand over to the State migration service of Ukraine all the documents that give the right of departure from Ukraine, including the Ukrainian passport.
"Hand over the Deposit to the state migration service of Ukraine all their passport for travel abroad and all the documents that give the right of departure from Ukraine, including the passport of the citizen of Ukraine", – read the definition of the judge of Solomensky district court of Kiev Alexander Bobrovnik in court on Saturday.
Also, according to the court, the guarantors, obligations under which were released Martynenko, accountable for the execution of the accused the following obligations: not to leave Kyiv without the permission of the prosecutors of the Specialized anti-corruption Prosecutor's office, to inform the Prosecutor's office changes its place of residence or work.
In turn, the lawyer, Martynenko Peter Boyko explained to the journalists that the court decided to release his client under the personal guarantee of 18 people, and was forbidden to communicate with certain individuals.
"The court banned Martynenko to communicate with Pereloma (first Deputy Chairman of the Board NAK "Naftogaz of Ukraine" Sergey Fracture, ed.), Mr. (Chairman of the Board of JSC "United mining and chemical company" ("OGHK") Ruslan zhurylo – ed.), representatives of foreign companies, which were presented in the motions, there's more than 20," said the lawyer.
We will remind, on April 20, was detained by representatives of the NAB, former MP from the "popular front" Mykola Martynenko.
The head of the Special anti-corruption Prosecutor Nazar Golodnitsky reported that the ex-MP accused of embezzlement of funds of the SE "Eastern mining and processing plant" in the amount of 17.28 million dollars. Specialized anti-corruption Prosecutor's office during trial regarding Martynenko will insist on his arrest with the possibility of bail of 300 million hryvnia
The detainee stated that the charges against him was fabricated at the direction of the Director of NABU Artem Sytnik for PR purposes and to divert attention from the failures of the Bureau.
Note that 15 MPs and four Ministers want to bail Mykola Martynenko during the consideration of the petition of SAP on the measure of restraint ex-to the Deputy.
On 22 April , the court decided not to arrest Martynenko, releasing him on bail.
Comments
comments