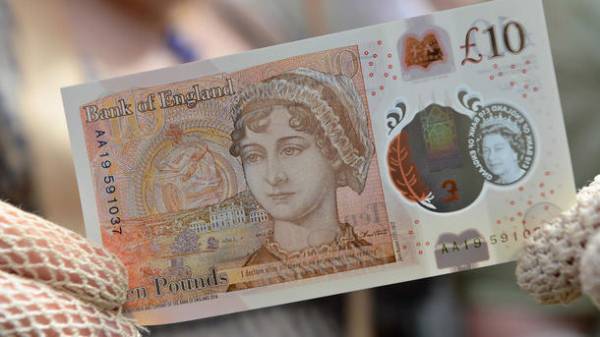 The Bank of England has released a 10-pound note with a picture of writer Jane Austen, RNS reports citing the message of the regulator.
Officially, the new polymer banknote was introduced in July 2017. She applied to the tactile elements in order to be able to distinguish between blind people.
It was printed more than 1 billion of notes in the coming days, they will appear in free circulation.
SEE ALSO
In Germany released a note of the value zero Euro
Bill and Jane Austin was the second of a series of polymer banknotes issued by the Bank of England. Earlier in September, 2016 in Britain appeared in banknotes five pounds with former British Prime Minister Winston Churchill. For 2020 a planned output of 20-pound banknotes with a portrait of the artist jmw Turner.
Now in the UK go to handle 10-pound notes with a portrait of the author of the "Theory of evolution" of Charles Darwin, they will be systematically replaced by new notes.
Recall, the transition to plastic money Britain announced in 2013. Plastic bills have already been introduced in Australia and Canada.
Comments
comments