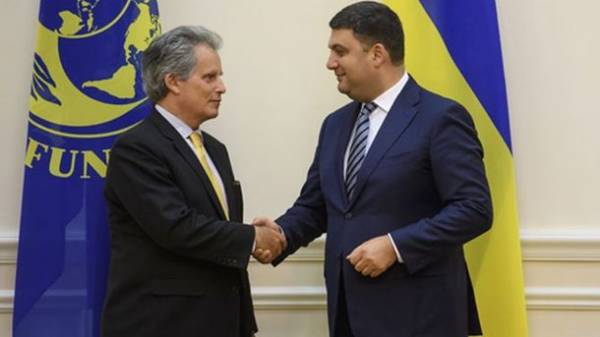 Ukraine subject to further reforms after achieving stabilization of the economy will provide a "bright future", which will be supported by global economic growth.
This was stated by Deputy managing Director, International monetary Fund David Lipton during a meeting with Prime Minister of Ukraine Volodymyr Groisman.
"Ukraine's progress in economic reforms was wonderful, the stabilization of the economy is timely and coincides with the period of growth of the world economy. This is an opportunity for Ukraine to move from the stabilization period to the period of rapid growth. I hope that the support of the IMF in previous periods was useful, and we will have a discussion on how to promote reforms in the future. The reforms will allow Ukraine to ensure a bright future," said Lipton.
SEE ALSO
Poroshenko discussed with the IMF a new tranche for Ukraine
In turn, Groisman expressed their willingness to continue the reform program in cooperation with the Fund.
"We need to increase the incomes of Ukrainian citizens. The reform of the pension system, reform of state property management, judiciary, anti-corruption reform – all of which requires today Ukraine and Ukrainians. Our team is ready to continue to run the program, set new goals and objectives for Ukraine to become successful with your support", – said the Prime Minister.
Deputy Director of the IMF David Lipton is in Kiev on an official visit on September 12-14.
Recall, the IMF approved a four-year program of crediting Ukraine's economy EFF 17.5 billion. in March of 2015. In this programme, our country has received from Fund of four loan tranches in the total amount of 8.7 billion dollars.
According to the results of the third review of the EFF, the international monetary Fund called on Ukrainian authorities to achieve more rapid and sustainable growth to accelerate structural reforms, starting with privatization and market development of agricultural lands, and noted the lack of concrete results in the fight against corruption.
Comments
comments