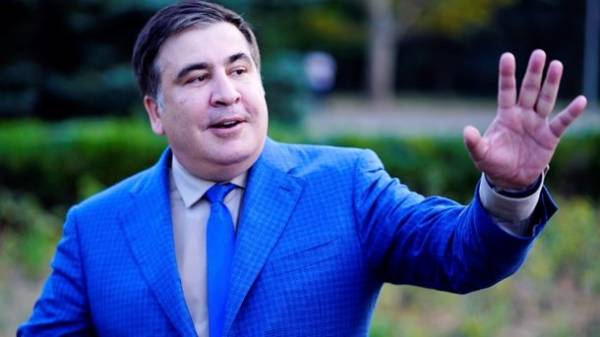 The ex-President of Georgia and former head of the Odessa regional state administration, Mikheil Saakashvili will not be expelled from Ukraine to their homeland, while in Georgia, will not end the criminal proceedings against him. This was stated by Deputy head of the Ministry of justice Denis Chernyshov, transfers "112 Ukraine".
According to Chernysheva, grounds for removal of Saakashvili from Ukraine at the moment, no, because in Georgia he had not been convicted.
"Nothing in Ukraine happened, in addition to the transition Saakashvili across the border. The documents that came to us, to us and to the Prosecutor General's office against Saakashvili, they say that in Georgia discusses criminal cases against him. This is not another stage in the conduct of extradition and in this phase, the Ministry of justice does not participate. It if Saakashvili was sentenced in Georgia for the purposes named in its conference call when it was a partial prerogative of justice," he said.
He noted that Saakashvili the right to apply to the Ukrainian court and appeal against the presidential decree on the deprivation of his citizenship.
"He has such a right. Why he did not use this right, – that in this question", – said Chernyshov.
SEE ALSO
The Ukrainian Prosecutor's office carries out extradition check on Saakashvili, the Ministry of justice
As you know, September 10, at about 20:00 Saakashvili still managed to break into the territory of Ukraine, using the help of several hundred activists. The crowd, whose ranks were including people's deputies of Ukraine, broke through the ranks of guards at the checkpoint "shehyni" and had a policy in Ukraine.
According to the latest data, during the events at "shehyni" hit 22 strength: 13 police officers and nine guards. 14 people (four representatives of the media and ten foreign citizens) of those who illegally crossed the border in PP "shehyni" in the incident, has already received a received a Protocol about the violation. Saakashvili also signed a Protocol on illegal border crossing, but with the objection.
As stated on 11 September, the lawyer Saakashvili Markiyan Halabala, he applied to the State migration service of Ukraine the statement for recognition of his client "a person who needs additional protection".
We will remind, in the beginning of September , Ukraine received a request from Georgia for the arrest and extradition of Saakashvili. The Prosecutor's office of Ukraine said: given the fact that criminal cases, in respect of which extradition is requested Saakashvili, pending before the Tbilisi city court, according to article 574 of the criminal procedure code of Ukraine "the request of the competent authorities of Georgia will be considered by the Ministry of justice of Ukraine".
Comments
comments