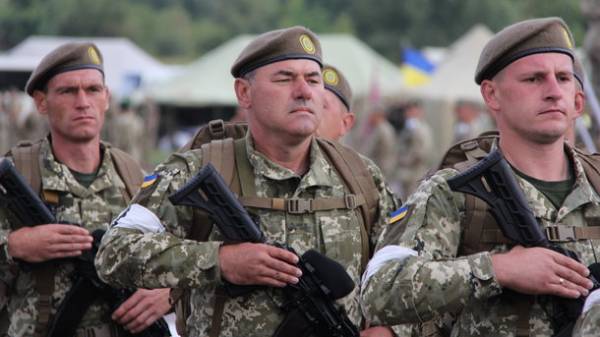 The draft state budget for the year 2018 provides for a direction to the security and defense of the state's 163 billion. This was announced by the President of Ukraine Petro Poroshenko Council meeting on national security and defence 13 September, the press service of the President.
"In accordance with the proposals of the Cabinet of Ministers of Ukraine to 2018 will be spent on the needs of national security and defense 163 billion. That's 20 billion more than the current year", – stated in the message.
The President recalled that the Strategy of national security provides an annual budget funding of the military-bezopasnosti sector in the amount of not less than 5% of the gross domestic product.
SEE ALSO
The Ministry of Finance has disclosed the dollar, which budgeted-2018
The Council also considered the package of problematic issues that need to be addressed in the current and following year on adequate financing and to facilitate the production of munitions, precision, armored and aircraft armament, as well as import substitution of spare parts and components supplied from Russia.
Separately at the meeting of the national security Council considered the question of strengthening the systems of air defense and aviation Air force, as well as the question of the costs of the intensive combat training of parts and divisions of Armed forces and other military formations.
Poroshenko stressed the importance of enhancing the motivation of those who are on the first and second line of the collision – it is an increase in cash payments depending on the risk and complexity of the tasks.
According to him, now on the first line Ukrainian serviceman receives a fee of UAH 10 thousand per month. "We are on the first line there is no one who would receive less than 17 thousand UAH", – said the President.
SEE ALSO
Budget-2018: the Finance Ministry announced a deficit and income
"I am sure that now, when we start the program armed with the technical modernization of the army, when we must appear at the level of the XXI century, we need to provide targeted financing of the State target program of reforming and development oboronno-an industrial complex and to find the resources," – said Poroshenko.
Comments
comments