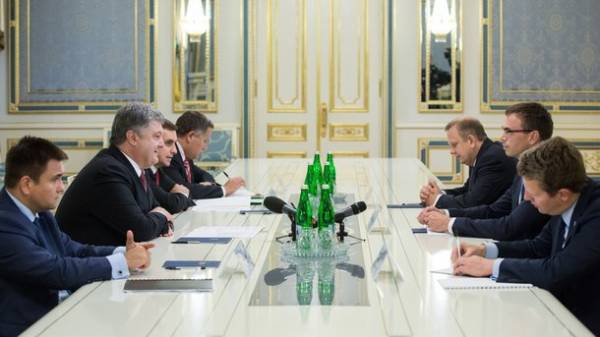 The President of Ukraine Petro Poroshenko met in Kyiv with the Minister of foreign Affairs of Estonia Sven Mixer, the press service of the head of state.
Poroshenko thanked the Estonian side for the support of sovereignty and territorial integrity of Ukraine, the condemnation and rejection of the occupation and annexation of Crimea, as well as a consistent position regarding the need to maintain EU sanctions against Russia. He also condemned the sentence occupying Russian court in respect of Akhtem chigusa, who was illegally sentenced to 8 years imprisonment, and called it a manifestation of "the Stalinist era in the style of the 37th year."
SEE ALSO
Poroshenko called the main task for peacekeepers in the Donbass
In addition, the interlocutors discussed the ways of implementing the initiative in the direction of the UN peacekeeping mission in the Donbas to ensure proper implementation of the Minsk agreements.
Sven Mikser reiterated the position of Estonia on the necessity of deployment of peacekeepers in all areas of individual regions of Donetsk and Lugansk regions, including the uncontrolled part of the Russian-Ukrainian border.
The President thanked for the important humanitarian and technical assistance to Ukraine from Estonia, as well as the treatment of the wounded Ukrainian soldiers. Poroshenko also expressed interest in further use of the experience of Estonian e-government development.
SEE ALSO
Will Russia promote its "peacekeepers" to Donbas: Putin said
In addition, the policy discussed the next summit of "Eastern partnership", which will be held in November 2017 in Brussels.
Earlier, the Minister of foreign Affairs of Estonia Sven Mixer stated that Estonia intends to continue support for the sovereignty and territorial integrity of Ukraine.
Comments
comments