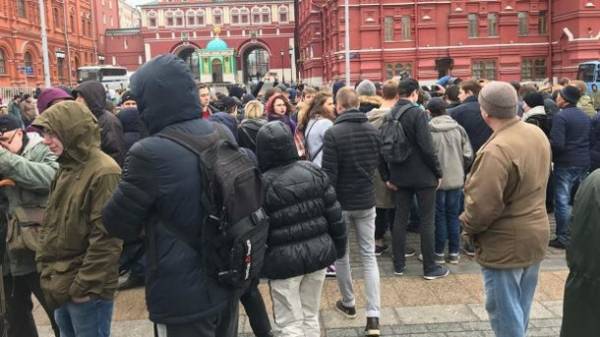 Protest March called "walk of the opposition" in Moscow is organized action, which is neither opposition leaders nor the provocations by the authorities. This was stated by the TV channel NewsOne, a Russian journalist "Echo of Moscow" Alexei Naryshkin.
He noted that the opposition denied involvement in the protests.
"At the Manege square, about 150 people, who do not want to leave. Among them are journalists, bystanders who are not involved in the action, and just watch. I guess we'll never know the answer to this question (who is the organizer of action – ed.). Representatives of all Russian opposition movements: the Fund of struggle against corruption Alexei Navalny, and "Open Russia" Mikhail Khodorkovsky distanced himself from this action. They believe that this is a provocation by the authorities. However, I see no provocation, no one turns the machine. Maybe it's just the young people who came to the protest, political slogans are not here," – said Naryshkin.
As reported, during the opposition rally in Moscow militiamen have detained more than 40 people, some of whom are also not adults.
Russian human rights activist Oleg Eliseev said that the Moscow authorities were notified of the holding of shares in the capital of Russia, but the police made some arrests of activists.
Comments
comments