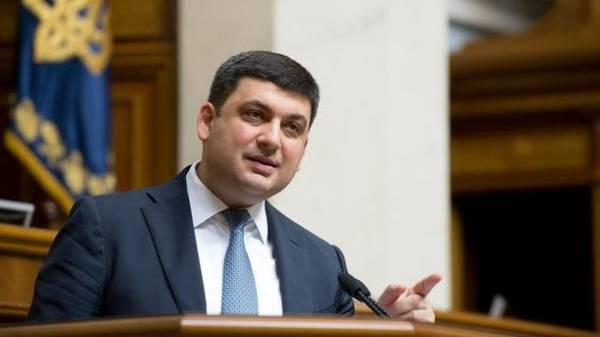 The UN General Assembly included in the agenda the issue of the peacekeeping mission in the Donbas. This was stated by Prime Minister of Ukraine Volodymyr Groisman.
"I would also like to emphasize that extremely important is the inclusion in the agenda of the UN General Assembly the issue of peacekeeping mission in Ukraine is a very important step for peace", – said Groisman.
According to the Prime Minister, the situation in Eastern Ukraine escalated.
"Unfortunately, we have a tense situation in the East – 51 attacks over the past day the Russian troops, the Russian aggressors and, of course, very important for us to consolidate further the efforts to establish peace and justice and the territorial integrity of Ukraine", – said Groisman.
According to him, Russia continues to build up military potential in the annexed Crimea.
"Therefore, we call on all our partners and thank you for your principled stance to keep sanctions, political and economic pressure on the aggressor to ensure that Russia finally abandoned their plans to build weapons in the continent and also stopped shelling the sovereign Ukrainian state, and also withdrew its military armed groups from the territory of Ukraine", – said Groisman.
SEE ALSO
In the Kremlin told about the fate of Putin's version of peacekeepers in the Donbass
As reported, on 22 August the President of Ukraine Petro Poroshenko said that he intends in September to present at the UN General Assembly the idea of a United Nations peacekeeping mission in the Donbas.
On 5 September, Putin said they agreed to the deployment of UN peacekeepers only on the demarcation line in the Donbass to ensure the security of observers of the Special monitoring mission of the OSCE. However, he noted that this issue cannot be solved without direct contact with representatives of Pro-Russian militants in the Donbas.
The foreign Ministry of Ukraine said that Putin's statement testifies to yet another attempt of Russia as parties to the conflict to internally represent the aggression of the Ukrainian conflict and to distort the very idea and purpose of the deployment of a peacekeeping operation that would not serve the overriding goal of sustainable peace in the Donbas and the restoration of the territorial integrity of Ukraine.
September 7, Poroshenko said that UN peacekeepers should be deployed throughout the temporarily occupied territory, including uncontrolled land border with Russia.
Comments
comments