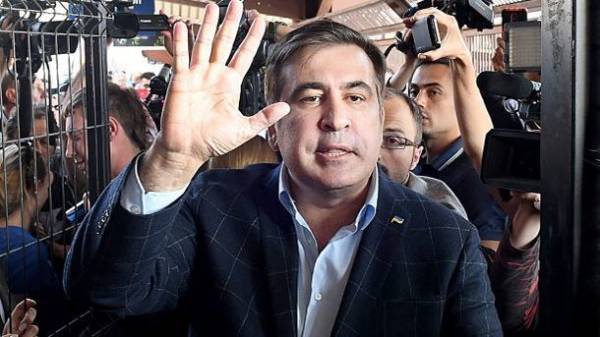 Border service of Ukraine to go to court to secure a violation of the border by the ex-head of Odessa region Mikheil Saakashvili. This was at the briefing said the Minister of foreign Affairs Arsen Avakov, reports UNIAN.
He noted that law enforcement officers will not leave without an appropriate reaction of Saakashvili's actions.
"As the Minister of internal Affairs, who is on a state position, I have no other option how to exercise restraint and to go strictly by legal procedure. Strictly according to legal procedure, the Border guard may apply to the court to fix a breach on the part of Mr. Saakashvili in article 204 of the administrative code. Then, most likely, there will be other claims, similarly, would qualify his presence here, on the territory (of Ukraine)", – said Avakov.
SEE ALSO
Yatsenyuk need to punish Saakashvili and Tymoshenko
He noted that he would not announce further steps against Saakashvili.
Also Avakov said that during the break through the state border of Ukraine the crime was committed against the foundations of statehood.
As you know, September 10, at about 20:00 Saakashvili still managed to break into the territory of Ukraine, using the help of several hundred activists. The crowd, whose ranks were including people's deputies of Ukraine, broke through the ranks of guards at the checkpoint "shehyni" and had a policy in Ukraine.
In the course of events at "shehyni" injured 16 security officials. Police have opened a criminal case on the fact of breaking the boundaries of Saakashvili 332 under article "Illegal transportation of persons through the state border of Ukraine". Article provides imprisonment for the term from three till seven years.
Comments
comments