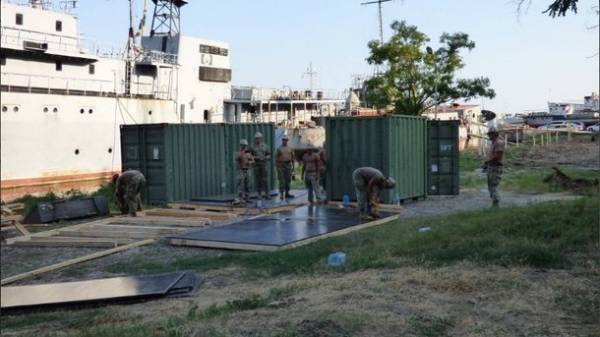 The former Deputy chief of armed forces General staff Lieutenant-General Yuri Dumansky believes that the construction in Ochakov Ukrainian center of operational control of naval forces (naval forces) of Ukraine with the participation of the United States does not become a pretext for aggression at sea, writes "Apostrophe".
He stressed that although the Russian media and called the Center a "NATO base", is no reason for this.
"How can there be a NATO base, if we are not part of any Union? It's in the first place. And, secondly, Russia is taking part in the aggression against Ukraine – this risk is unfortunately a reality – to fear him is not necessary", – said Duman.
SEE ALSO
The US military build a base near Nikolayev
He said that Russia is using the construction of the centre for their propaganda – to further escalate the situation.
"We have no document, which would allow us to have a NATO base on the territory of Ukraine. Do not pay attention to any propaganda, no need to look – you need to build the future. And an operational control Centre, the Navy is one of the elements of the national security system. The security of the country is worth it to invest the intellect, time and effort," said Dumansky.
He said that the mentioned center is very important for Ukraine, because she lost control in Sevastopol after the Russian occupation of Crimea.
SEE ALSO
Why the Americans are building in Ochakovo the marine operations Center Navy
Dumanskaya added that such a chance from the United States, it is necessary to use.
We will remind, earlier the leader of LDPR Vladimir Zhirinovsky has declared, that to drown in the Black sea American soldiers and the headquarters of NATO, which is based in the Ukrainian Ochakov near Odessa.
Comments
comments