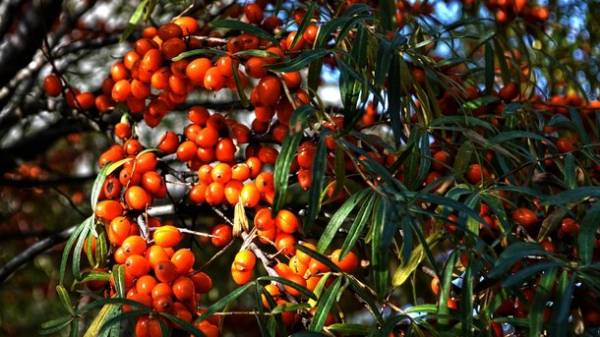 Most people are not even aware of how useful buckthorn. These berries usually ripen in late August and in early September it is possible to buy or to collect from trees in your own garden, writes med2.ru.
SEE ALSO
The most useful and affordable products for digestive health
The use of sea buckthorn for health are enormous, but for some reason many people have not even ever tried the berry. Most popular: sea-buckthorn jam and butter, which have unique properties and do not lose their medicinal properties during heat treatment.
What are the advantages of sea buckthorn:
Jam of yellow berries helps to improve digestion and accelerate the metabolism so that the person can lose weight or simply become healthier.
With the help of sea buckthorn oil to cure stomach ulcers or any external wound.
Sea buckthorn is often used in the treatment of colds. Its oil can be used as drops against blocked nose and balm for the sore throat.
Gradually vision improves because composition of sea buckthorn contains large amounts of vitamin A.
Due to the vitamin E in the composition, sea buckthorn is a powerful anti-aging products which stop aging and even wrinkles on the face.
Sea buckthorn protects the heart, because it is enriched with vitamin K and is also very useful for blood vessels and circulatory system in General.
Reduces skin sensitivity and inflammation, and this effect appears and for external use sea buckthorn and after its regular use.
Housewives who have time to yourself to appreciate the power of sea-buckthorn annually close of this berry jam for the winter, and also prepare liqueurs and alcoholic cordials that have no less health benefits.
Sea buckthorn oil is "cheap" drugstore means, so that there is nothing easier than to fill up your first aid kit universal remedy for many diseases. By the way, in autumn people often face blisters more concise of shoes than you wore during the summer period, and to help them heal faster can the oil from sea buckthorn.
Any meals and drinks from sea buckthorn is strictly not recommended for people with such health problems as: liver disease and gall bladder, hepatitis, pancreatitis, cholecystitis, and so forth. In these cases, useful berry can seriously harm human health.
Comments
comments