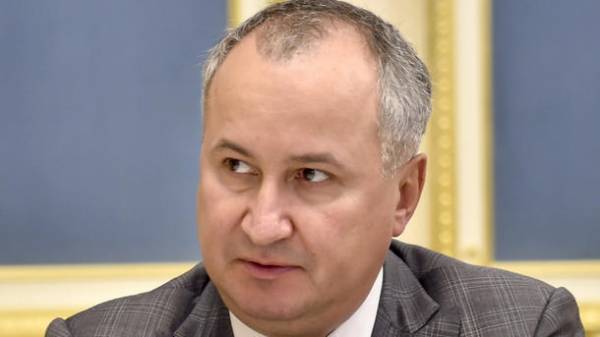 The security service of Ukraine is ready to contribute in locating and shipping on the interrogation of the ex-officer Igor Ustimenko, who was seen near the house of the journalist Pavel Sheremet on the eve of his murder. This was announced by the Chairman of SBU Vasily Gritsak today at a briefing in Kiev.
"The citizen of Ukraine Ustimenko really was a soldier of the SBU, and if I remember correctly, he was dismissed on 29 April 2014. The President, by the way, yesterday said it laid off more than 2 thousand employees of the SBU after the revolution of dignity, including was dismissed and the citizen Ustimenko," said he.
"About interrogation – you know perfectly well that the case is being investigated by Nicoletia, and all that is required of us (we talked to Nicolicea), we are ready to provide maximum assistance and continue to assist in the investigation of this production. But we can't call it (Ustimenko) for questioning, without a Commission investigator of national police", – said Hrytsak.
"Therefore, we will assist in establishing its location, shipping, anything. We are interested to establish the truth. I am convinced that the truth in this case will have to establish long… This person during interrogation will be required to establish that he was doing, and to check his alibi will not be difficult," – said the Chairman of the SBU.
As reported, on may 14 the President of Ukraine Petro Poroshenko said that in the case of the murder of journalist Sheremet on 15 may for interrogation caused by a former SBU officer, Ustimenko.
May 10, OCCRP and effect.Info has published an investigation, according to which the SBU officer named Igor Ustimenko was seen on video surveillance the night before the murder of Sheremet near his home in the center of Kiev.
A press-the Secretary of SBU Elena Gitlyanskaya said that Volodya was dismissed from the security Service of Ukraine on 29 April 2014.
The journalist was killed in the center of Kiev on the morning of 20 July 2016 in the explosion of the car. Police have classified the crime under part 2 clause 5, article 115 of the Criminal code of Ukraine (premeditated murder committed in a way dangerous for many people).
Prosecutor General Yury Lutsenko called the main version of the murder Sheremet retaliation for his professional activities.
The Minister of internal Affairs Arsen Avakov has not excluded that the murder Sheremet can be a part of Russia.
In February 2017 the police said that the criminal proceedings on the fact of murder Sheremet interviewed more than 1.8 thousand people. It was also reported that at the time the murder suspects of the journalist was not.
Comments
comments