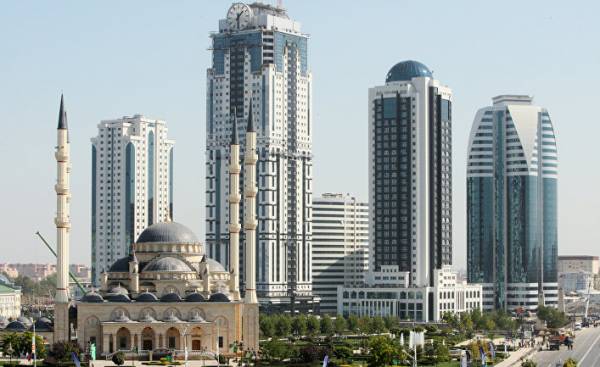 Terrible — This was supposed to be a pleasant evening. But for a young man who calls himself Maxim, as for many other gay men who were arrested in the framework of the April massacre in Chechnya, that turned into almost two weeks of torture and beatings.
According to Maxim, it all started with a conversation in chat with a "very good old friend too gay", which is offered to meet someone at the apartment. But when he got there, he was met not one, and the people who beat him. Then he was tied to a chair, attached an electric wire with clips plucked and began questioning.
"They yelled: "Who else do you know?" — said max, adding that from time to time they passed a current through his body. — It was unbearably painful. I kept from last forces. But I told them nothing".
Life of homosexuals in Chechnya has always been difficult. However, targeted, mass persecution and punishment, which began last month in Chechnya under the leadership of its Pro-Kremlin leader Ramzan Kadyrov, became a new milestone in the long history of human rights violations in the Republic.
The opposition "Novaya Gazeta", the first person to write about this massacre, argues that it at least 100 gay men were arrested and three were killed. The organization Human Rights Watch has confirmed this information.
Western governments, the UN and human rights organizations have unanimously condemned these sweeps in Chechnya. Russian activists have set up a clandestine network that helps the victims to leave Chechnya and to protect themselves from potentially severe punishment by their families. In the daily life of victims now use fake names.
Below is the story of Maxim, which is a little over 20, and two other men who are victims of the agents of the Chechen security services.
Homosexuality is taboo in Chechnya and the greater part of the territories of the Caucasus in southern Russia. "This is a highly homophobic society, — said Ekaterina sokyryany, program Director Europe and Asia of the International crisis group, an expert on the North Caucasus. — Homosexuality was punishable. It is believed that Islam is a great sin."
However, according to Maxim, before the start of the persecution of male homosexuals in Chechnya, at least could communicate, albeit in a very close and closed circle. They mostly met in private chat rooms, called the Village, or What the Mountains Are Silent About.
"When two gay men met, they did not call each other their real names," — said Maxim. They often met at the coffee shop or in rented apartments. "Nobody knew about my sexuality, even my best friends."
The attack on gays began after the Moscow human rights group GayRussia filed an application to hold gay pride parades in the Caucasian region, which led to strong protests from representatives of religious groups. In Chechnya, the consequences were more dire: the mass "prophylactic" cleansing of homosexuals is so gay said agents of security services, delaying them.
Sometimes gay men were detained for a day, and sometimes for a few weeks, as evidenced by the data of Human Rights Watch and than told the men, who managed later to leave the Republic. Some "back to their families barely alive after being beaten," says Tatyana Lokshina, Director of Russian programs at Human Rights Watch.
This organization became known that one man died during the torture, and two others died as a result of so-called honor murders committed by relatives of the victims after the police freed them.
"The organization Human Rights Watch received numerous reports of attacks by security personnel under the control of Ramzan Kadyrov, and these reports are of serious concern, said MS Lokshina. — This is another opportunity to strengthen the culture of fear."
The reaction of the Chechen authorities for the condemnation of the world community has caused a new wave of confidence. In his telephone interview to the representative g-on Kadyrov, Alvi Karimov said that the message about the cleansing of gays in Chechnya is a lie, because such men in the Republic.
"Have you ever seen in Grozny the people who in their appearance or manners would be like gay people?" asked Mr. Karimov.
"Policy is developed to solve a particular problem, he said, referring to an article where it was said that the arrests of gay men represent official policy of the authorities. — I can officially declare that there is no such policy, because this problem does not exist. If the problem was, was politics."
In his meeting with President Vladimir Putin, which took place on Wednesday, April 19, Mr. Kadyrov called slander allegations that the security service of Chechnya persecuted gays.
And on Thursday, April 20, the representative g-on Putin Dmitry Peskov told journalists that the Russian authorities have not found any evidence that the Chechen police arresting gays.
However, Maxim and other gays, it quickly became clear that the Chechen authorities use the same tactics, of which the last ten years Russia and Mr. Kadyrov used to suppress the Islamist insurgency.
The security agents were pretending to be homosexuals seeking partners in such chats, as a Village, or compelled those whom they have caught, to arrange meetings with their friends.
Chechen homosexuals was gripped by fear. "If you get caught it gets to me," said 20-year-old student, who identified himself as Elijah, gave an interview in a safe place outside of Chechnya. Ilya later found out, he fled from Chechnya just days before the security agents came to his home.
Authorities briefly detained one young man who called himself Nokhcho, after a friend of his told him during an interrogation. "I don't blame him,' said Nokhcho. — We are not heroes. We're just gay. We starved. We were tortured by electric shock".
Apparently, this is precisely what happened to Maxim, who for some time corresponded with their friends. "One day he suggested to meet, — said Maxim. Since we knew each other a long time, I did not know that he is capable of such a thing."
When max entered the apartment, where they agreed to meet, agents of the security services beat him. In that apartment there were five other people who, like Maxim, lured there by deceit. His story is consistent with the information available to Human Rights Watch, and the stories of two other gay men who were interviewed for this article.
Six young people moved out of the apartment in a makeshift cell in an abandoned building, where, according to Maxim, they were tortured with electric shock.
After 11 days of Maxim gave it to a relative, who said that he was gay. The security agents told the relatives of his victims that if they care about the honor of their families, they have to kill young people.
Father Maxim wanted to beat his son, but did not, seeing the bruises on the body of the Maxim. But he said, "I ought to kill you."
Fearing for his life, Maxim has appealed to human rights group "Russian LGBT network", St.-Petersburg, which in the region round the clock service to homosexuals.
To assist victims of harassment, these activists are taking extreme precautions, acting in fact as a guerrilla cell in the rear of the enemy, despite the fact that all their activities are perfectly legitimate.
"These people don't trust anyone," said Olga Baranova, Director of the Moscow community center, which is part of the volunteer network that helps gay people to leave from Chechnya.
According to Ms. Baranova, being in a safe place outside Chechnya, some young people admitted that at first they were afraid that this volunteer organization can also be a trap, but they had no choice. "He said: "We do not believe that you really exist," she added. "We thought this was the last attempt to catch all those who still have"".
The network bought the plane tickets for the Chechen gay, found a secure refuge and doctors for those who were seriously injured".
"Gay people of Chechnya and the North Caucasus are in mortal danger, — said Igor Kochetkov, Director of the Russian LGBT network. — People whose partners have been detained, have every reason to believe that they will be arrested. It is very difficult not to name names under torture".
Comments
comments