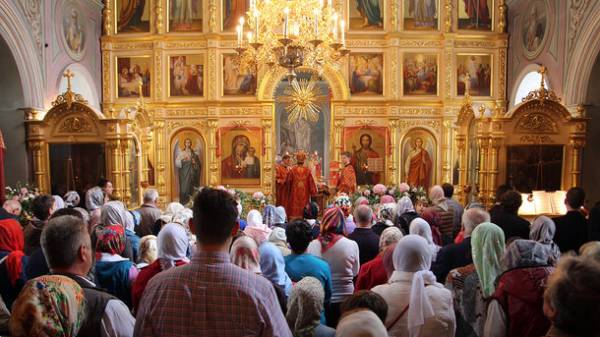 September is rich with events, be mindful of every Christian. This month we have three major holiday beheading Prophet forerunner – the number 11, the Nativity of the blessed virgin – the 21st, and the exaltation of the Holy cross – 27th.
The website "Today" have written briefly about each of the holidays:
On this day the Orthodox and Greek Catholics celebrate the feast of the beheading of the Prophet forerunner and Baptist John (people – Golovec). Saint John the Baptist (the forerunner) or "messenger" of Christ, predicted his coming, forms a connecting link between the old and New Testaments, he is the last in a series of old Testament prophets and the first Saint of the New Testament, which tells his story. The Orthodox Church calls this feast the great. It was erected in honor of events since the beginning of the New Testament. On this day, on the orders of the tetrarch of Galilee Herod had executed John the Baptist the man who baptized Jesus Christ in the waters of the Jordan.
In this day people adhere to strict fasting. You can not cut anything that resembles a head. It is generally considered that this day should not pick up sharp objects: knife, axe, saw. That is, everything that reminds martyred Saint. People say that if you cut the head of cabbage in the day, it may leak blood.
The Nativity Of The Blessed Virgin. Twelve major religious holiday that is related to the great events in the life of the virgin Mary and Jesus Christ. On this day, according to the Scriptures, in the family of righteous Joachim and Anna, was born a daughter – the future mother of the Son of God – the virgin Mary.
Our ancestors this day trying not to do hard physical labor, and even under the ban was the General cleaning in the house. On the Nativity of the blessed virgin, the whole family gathers at home for dinner.
The exaltation of the cross. It is believed that on this day was found and returned to the land of Israel the Holy Cross of the Lord – the one on which Jesus was crucified Christ. This occurred in the year 326. In connection with the event, in all the churches held a solemn service.
SEE ALSO
Apple Spas: everything you need to know about this day
During this period, the last migratory birds fly away to warmer climes. It is believed that the one who will see the last bird flight, can make a wish, and it will come true. The weather on the day of the Exaltation of the cross determined the following summer. It was believed that if the 27th of September, the North wind blows, summer will be hot.
Comments
comments