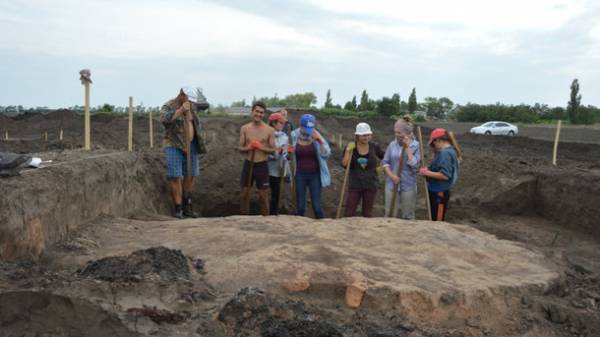 During the excavation of the historic monument of Kurgan of the Scythian period in the territory of the village Vasino Mosorensis rural Council (Kirovohrad region) – archaeologists have made a sensational discovery. This was reported by the press service of the regional state administration.
"In the spring of this year, the area of the field where the mound is located, was discovered a stone anthropomorphic stele, Dating from roughly the second half of VI – beginning of V century BC. It contains images of a Scythian with cervical hryvnia, sword and ritona, which served as symbols of the then government. Therefore, scientists have suggested that in Vasino mound may be the burial of a Scythian ruler or military leader", – is spoken in the message.
It is noted that archaeological investigations were carried out by scientists and students of Central state pedagogical University named after Volodymyr Vinnichenko, under the leadership of Professor of history of Ukraine, candidate of historical Sciences Irina Trump.
Scientists say that the mound in Vasino, like most of the burial structures of the Scythian time was robbed in antiquity. However, as noted by the head of a scientific expedition Irina Trump card, this feature is extremely valuable for science.
"In the course of excavations made a number of sensational discoveries. In particular, it was found that the wooden construction of the Scythian tombs have been preserved to our days almost intact, which is extremely rare. Other similar monuments discovered on the territory of Ukraine, was heavily damaged by robbers, and therefore, the reconstruction of the original form were carried out only by the remains of fragments", – emphasized in yeah.
Interestingly, the ancient stele was found in the same place where it is installed from the very beginning – such discoveries in Scythian archaeology rare. According to the scientists, the artifact is a unique piece of Scythian art and has no analogues.
Comments
comments