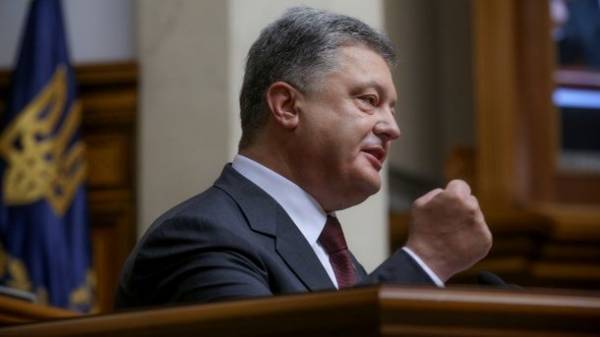 Russian aggression against Ukraine has contributed to the unity and cohesion of the Ukrainian people. This was stated during a working trip to Kharkiv region, President Petro Poroshenko, UNIAN reports.
The President noted that the unity of Ukrainians prevented the invaders to split the country.
"I am confident that victory is obtained only when we are United. We combined Russian aggression, when they thought that the country will not survive. Seized the regional administration, seized the premises of the SBU, tried to split the country. Their dream was – "Kharkiv people's Republic", "Russia", "little Russia", "Neuroscie" or something else there," – said Poroshenko.
SEE ALSO
Poroshenko: We start modernizing the army
According to the President, Ukrainians have demonstrated their ability to unite and in a very short time to build an army.
"Let's see what the guys. Who saw the military parade at the Independence square? Unique sense – hundreds of thousands of Ukrainians took to the street and welcomed the Ukrainian soldiers and our partners. For the first time on Khreshchatyk and Independence square were our partners from USA, UK, Poland, Romania, Moldova, Georgia… When I heard the Scottish bagpipes on Khreshchatyk – it was incredible. Is the power and demonstration, that the whole world is with us", – said the head of state.
We will remind, today the President of Ukraine during a trip to Kharkiv region took part in the opening ceremony of a new school in the village of Pisochyn.
Comments
comments