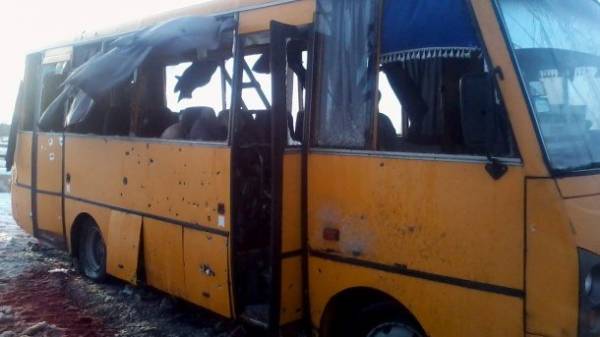 The security service of Ukraine established that the organizers of the shelling of the bus under the Volnovaha in 2015 that resulted in the death of a dozen people involved in the Colonel of armed forces of Russia Anatoly Sinelnikov and a citizen of Ukraine, the so-called "military commandant of Dokuchayevsk" Yury Shpakov. This was stated by the Deputy head of the Main investigative Department of SBU Vitaly Beacons, reports 112.ua.
"We were able to obtain evidence giving rise to the receipt of suspicious individuals, namely, the citizen of the Russian Federation Colonel Sinelnikov and citizen Shpakova. The defendants led directly to the artillery battalion that led the attack, which killed people, and the men occupied the position of commander of the curator "of the 5th army brigade" and commanded the actions Shpakova," – said Beacons.
In SBU noted that the suspect was forwarded to them by mail.
As for the perpetrator of the crime Shpakova, he is in Donetsk, but removed from service in "DNR".
"There was information that he was not alive. But this information was not confirmed, today, we know that he is alive and in Donetsk, but is not at the office, as two years ago. He was in the military. Had to do with the sun. Today, according to our preliminary information, he was excommunicated from the armed formations of the so-called "DNR", – said the first Deputy Prosecutor General of Ukraine Dmitry Storozhuk.
Recall, January 13, 2015, the rebels made the attack on the checkpoint Ukrainian law enforcement officers near Volnovakha: from Dokuchaevsk was released about 40 shells from multiple rocket launchers "Grad". Several of them fell near here who was the passenger buses. One of them riddled with shrapnel. It killed 10 bus passengers. Most of them were women. Another 13 were injured varying degrees of severity.
Comments
comments