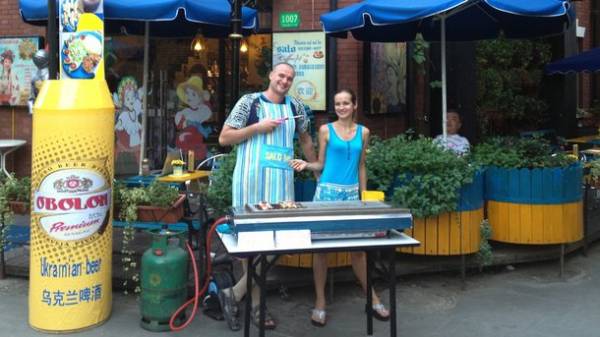 Ukrainians love to not only eat, but also treated with the pleasure of others. Even if life threw them to the other end of the world.
Eugene Meselevskiy lives in Vietnam for a year and a half. He came to his brother for the wedding, traveled the country and stayed.
He just turned 24, and he has headed the kitchen of one of the most popular and large (holds up to 300 guests) restaurants in a Vietnamese tourist town of Hoi an — Soul Kitchen. About it Jack is ready to talk for hours: "We prepare dishes of fusion cuisine (from the English. fusion — mixing, mix the products and technologies of cooking different national dishes. — Ed.). And I can be creative, anything. The same chicken Kiev I cook as a snack and served with fruit". The restaurant has a fixed menu and there are dishes that change every two or three days.
"The dishes are strictly in the ensemble with the music. If we have DJs, we have a sushi menu. If the national hip-hop competition, we do a more affordable menu focusing on appetizers," says Eugene. Subordinate to the chief Menzelinskogo — 16 people, the oldest employee is 65 years. "This grandma d even shout at me, if it is something not like it, despite the fact that I'm a chef," smiled Eugene.
Jack is thinking about opening in Vietnam his restaurant, but wants to get experience. In Kiev he worked in the Czech, French and Ukrainian restaurants.
"I remember when I first got to the kitchen, being a waiter in a Japanese restaurant, I realized — this is mine. Now at the end of the day look at his hands burned and his fingers cut up and think: cool, this is the day! — Zhenya says, and adds: — Hard, mainly because of the peculiarities of the Vietnamese mentality and local habits, as a consequence of misunderstandings with the staff. And such situations — million. For example — continues Ukrainian, chef taste the dish before serving. Yes, they test them for salt and pepper, but do not receive from this pleasure. "It's not ours," and all. I recently cooked dumplings. And here the chef taste them, chew, their faces twitch, like you're torturing them, I swear! Still somehow made the soup and began to fill it unsweetened yoghurt (in Asia, the cream is not doing). The chef was in shock, started to stop me."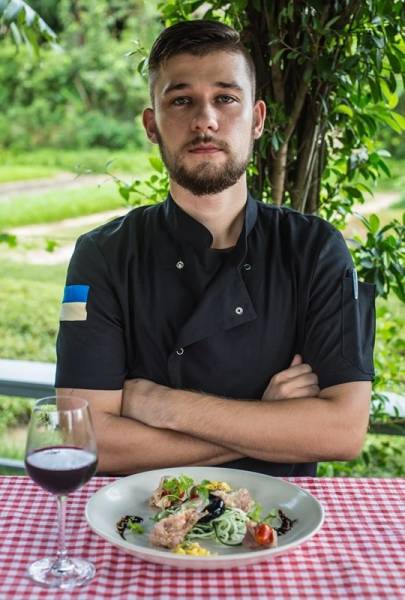 Eugene Meselevskiy: "the Vietnamese are surprised that I'm a chef from Ukraine, and questioned about the country"
"I'm in charge, listen up!" — according to our chef, Vietnam is not. "The guys are all sensitive to your account, you need to explain the jokes, gently pointing out flaws. Such a system, as in Ukraine, when there is an evil boss, throw pans, does not work here. You will not be respected and to do what you require". Although, admits Jack, sometimes nerves all on edge. "There was one situation. Cheese. There are granular cheese, which in Asia is used for pasta, expensive cheese, which we cut into, for example, salad "Caesar" — says the Ukrainian. — Once granulated is over, I cut the usual and made pasta. God, what has begun! Chef started out the cheese sticks to pick out. I tell them: guys, it's the same thing! No. They know that Parmesan cheese — for pasta, and use it already 7-8 years, and this one is for Caesar".
With the guests also, the case history, smiling man. "Asians, for example, often order sashimi or carpaccio (raw meat and fish, respectively). Bring them, they surprised to look at this and ask them to fry. Or as often guests ask for tomato juice, for example, to the burgers, and they bring fresh, with sugar. Vietnam juice make sugar and lots of ice."
On uniform Genis stripe emblazoned with the flag of Ukraine: "Customers are very surprised that the chef from the Ukraine, in Vietnam, a lot of chefs-French… But happy to try out everything, praise, asking about Ukraine and the situation there." According to him, once the client-the Japanese liked it so much noodles that he, knowing that it was prepared by the Ukrainian, who has previously worked in a Japanese restaurant, treated the entire staff to ice cream. And this is 40.
CAMBODIA: THE UKRAINIANS OPENED A
At Biryukov's family from Dnepropetrovsk to Cambodia — sweet business, Vladimir and Tatiana are the owners of the patisserie Cafe Del Mar. Say, Asia has long Manila, and six years ago they looked transfer about Cambodia, agreed: "It is!" and, he Packed up, after a couple of months settled in the seaside tourist town of Sihanoukville. There was no fear, no doubt, despite the fact that driving in a strange country with two small boys.
In fact, Tatiana trained to be a teacher of mathematics, and Vladimir — the aeronautical engineer. And then… pastry. "In Ukraine, I always baked something sweet for tea, — she shares. In Cambodia we visited all the coffee shops and bakeries in our city, but the local desserts are mostly rice we don't like. For example, balls made from rice flour, coconut syrup inside, banana tempura, fried sweet potatoes with sesame seeds… There are delicious, but we got used to flour. And it is here real. Biscuits made from powder directly on the market in a molded pan. It's not there." Tatiana began again to indulge the seven cakes, and then began bringing cakes for sale at the shop of a friend.
According to the Ukrainian, the most difficult to find in Cambodia equipment and consumables for the opening of the café: "We collected it for the world. Friends brought bakeware, silicone blades and other kitchen tools". At first, the guys in the café had helped one worker, but now they are 12. "Work and play together. And celebrating the birthdays of every employee — always with a cake, which is, alas, not every Khmer can afford", — says Vladimir.
In a bakery frequented by both tourists and locals. But the Khmer Rouge — the other flavors. "They basically just cold drinks order, and if a piece of cake, then drink it ordinary water — says Tatiana. — Our take a lot of cakes, pastries, and coffee to them, and then to go". Make sweets from imported ingredients — in Cambodia of products is almost nothing its not possible: "for Example, we use French chocolate, German milk, Danish cream."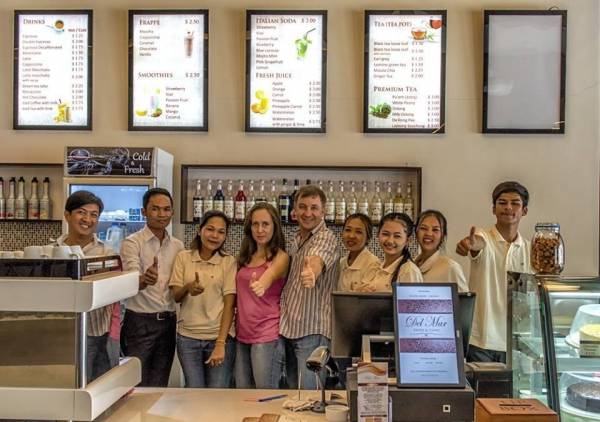 Cambodia. Rouge rarely come here, but tourists constantly
THE CHINESE: LOVE HOT OLIVIER
The restaurant with the eloquent title Salo a few years introduced the residents of the 24 million Chinese metropolis of Shanghai with Ukrainian cuisine. Owners — spouses Alexander and Alina Suchecki Mozharovsky — live in China for 8 years. First, they traveled the country, studied the culture and language, and in 2013 opened the first restaurant where they served soup, dumplings and cutlets. "To fat by the Chinese, by the way, completely indifferent, and still don't understand how you can eat herring — Alina smiles. But I love pancakes with different fillings, and cakes "Napoleon" and "cake". Well, the kids were delighted with the ice cream, we did it ourselves." Foreigners also often used to go to Salo — mostly Germans and mostly for a beer and Ukrainian vodka.
The kitchen was dominated by Alina's brother and his wife, Alina Alexander, as fluent in Chinese, was engaged in the service and bar. According to her, they tried to learn local cooking Ukrainian dishes, but to no avail. "The Chinese love everything with a strong taste — very spicy, sweet or salty. It is hard for them to feel our kitchen — for them it tasteless, so the cooking we did ourselves, — says the Ukrainian, adding that the difference in the taste preferences often led to comical situations: for Example, guests of the restaurant were very surprised when the main side dish we had the potatoes, they had rice. Or offer to do a mix: one layer rice, one layer of potatoes and top again Fig. More soup for them seemed too thick, because they drink soup, not eat. As salad "Olivier" they are often asked to warm up in the microwave".
For the holidays the Ukrainians were preparing a special menu: a fur coat and Olivier on New year's, Christmas pudding on Christmas and Easter bake Easter and painted eggs. Although Ukrainian dishes seemed Chinese strange and unusual, I tried everything, says Alina, was interested in our traditions and customs.
Salo fed in Shanghai for three years, and only recently the restaurant had to close. "First, the rent went up twice, and secondly, the chefs returned to Ukraine, thirdly, I just had a baby and now all the time baby, — Alina smiles. — Still many customers call, ask to prepare them something at home, but don't have time… Maybe in the future we will again something will open".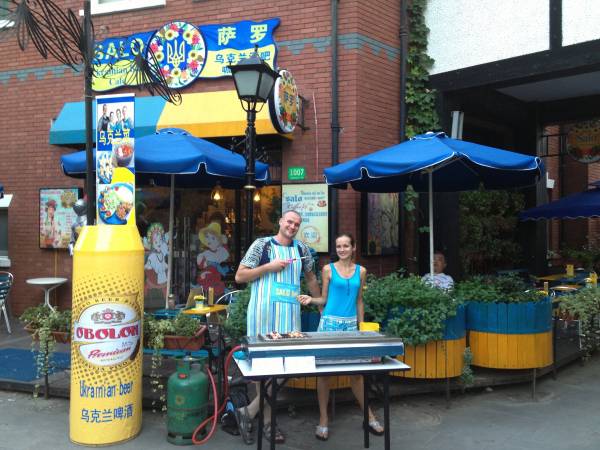 China. The restaurant with the eloquent title Salo working in China for several years
LAOS. Lugansk resident Yana Bormotova for two years working as an accountant in an Italian restaurant in Vientiane (capital of Laos). Says Laos
is a wonderful country for travelers, but for those who want to live here and work, you need nerves of steel. "Local is not very big workaholic… It is a national trait, says Ian. — There's an old saying: the Vietnamese plant rice, the Khmer watch him grow, and the Laotians listen to. Did so."
Yet, according to Jana, Laotians avoid any conflicts — it is also a national trait: "the Minimum increase voice or debriefing with the Manager or waiters — all at once the man disappears without warning, and for a long time not to contact. Not as at us, — shouted and forgotten."
Problems with government agencies, in General, no, shares his experience Jan: "Fire and police don't go, sometimes only the tax, but they had nothing to profit — according to the documents we're clear. And SES here, by the way, no, otherwise, all street cafes would not work — most do not have access to running water, and the products are stored for a long time in the heat".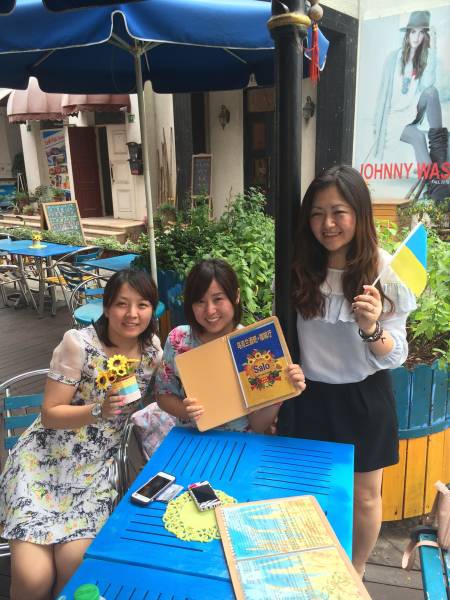 China. Local residents are delighted with the Ukrainian national dishes and our flavor
JAPAN: MASTER-CLASSES OF UKRAINIAN — TURN
On cooking classes Faith Karakida the Japanese line up! Ukrainian is the fourth year lives in Tokyo and teaches local residents how to cook dumplings, pies and other dishes of Ukrainian cuisine. That is authentic, emphasizes Faith: "I do not like the Soviet kitchen, so do not include it in the program of the master class, but the same Olivier and Shuba
the Japanese at the hearing, they were asked to teach them, and once I finally surrendered". According to her, the last few years there appeared a huge interest in Ukraine and its culture.
In Kiev, a Faith, a florist and fashion designer, had her own firm for the sale of Souvenirs and design products. Then she got married, left for 4 years in Greece and then in Japan. Says he love this country with all my heart: "the Japanese always learn, evolve, aspire to see beautiful things and to create them. I am very impressed by this quality."
Cooking the Faith was carried away in Kiev. "I guess it's the genes, — she smiles. My brother — a chef in the capital, he has infected me with love for cooking. I loved to arrange all sorts of parties… I Thought then — that would be to find a job, like. And my dream came true! However, in Japan". On arrival in Tokyo, Vera found a job in culinary online school. The school is looking for students, and the teacher arranges the room, as a rule, at home, and makes the workpiece. Faith often takes 8 students. First they cook, then, of course, taste.
"The teachers once a month do to school colorful presentation with photos of dishes and ingredients. Each lesson is five courses, I have 10 lessons in a month, — says the Ukrainian. — The student pays $60 for a master class (4-5 hours), $10 goes to the school and the rest to the teacher. Work — interesting, but difficult: you have to do a lot of pieces, cuts, semi-finished products".
Besides, she says, on some dumplings and soup will not go far, need some fresh ideas.
"During this time I spent a huge research about Ukrainian cuisine, raised the archives, documents in libraries, found hundreds of old recipes, which we do not know. This is material for an entire book! Lord, it's hard to count how many types of soup I was cooking! — she exclaims. For example, the unique authentic recipe for Christmas borscht with mushroom "ears". Preparing for buryakove kvass, vegetables — no potatoes, no cabbage — is not there, only the roots. To it serves little "ears" on the choux pastry with mushroom stuffing. They are very beautiful "fall" soup… This is art!"
The Japanese are crazy about soup, and any recipes with beets lead them into raptures — this vegetable only began to grow in the country. "He's sweet, and the Japanese love to podslushat main dishes, — says Vera. — At the same time, the desserts they do almost savoury, so in workshops I seriously cut the sugar in the desserts. For them the main dishes that the sweet should be approximately the same taste."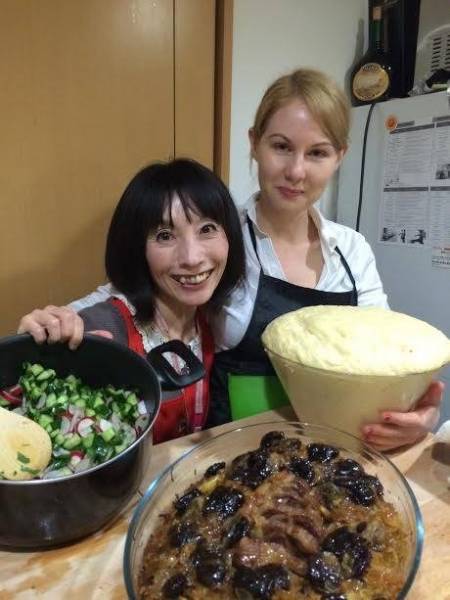 The Japanese are taught to sculpt dumplings
Comments
comments