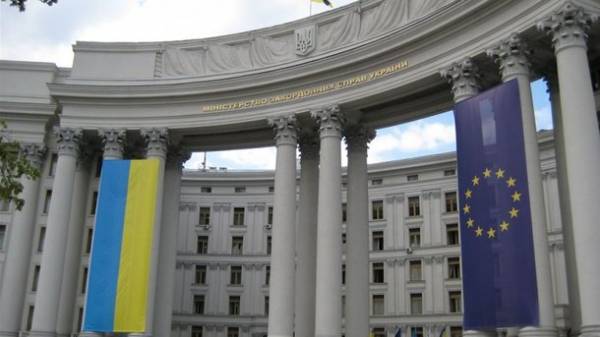 Ukraine supports the efforts of the international community to resolve the crisis in Venezuela by holding free and democratic elections.
This is stated in the statement of the Ministry of foreign Affairs regarding the situation in Venezuela in connection with the elections to the National constitutional Assembly.
SEE ALSO
The European Parliament has not recognized the bloody election of the constituent Assembly of Venezuela
"Ukraine is concerned about the growing political confrontation and violence in Venezuela amid deepening economic and food crisis. We strongly condemn the attempts of the Venezuelan government to usurp power, violation of basic democratic rights and freedoms of its citizens, including the right to peaceful Assembly and free expression," reads the statement.
The foreign Ministry stressed that Venezuela is not for the first time demonstrates disrespect for democratic norms and principles of international law. "At the time, Venezuela did not support the sovereignty and territorial integrity of Ukraine during voting important for Ukraine and the entire civilized world of resolutions of the UN General Assembly," – reminded the Agency.
SEE ALSO
U.S. may impose oil sanctions against Venezuela
"Ukraine strongly supports the appeals and efforts of the international community to resolve the crisis in Venezuela, particularly through the holding of free and democratic elections," the statement says.
We will remind, in day of elections to the Constitutional Assembly, July 30, in Venezuela were killed 11 people, and another five died the day before.
In early June it was reported that more than 55 thousand people have registered as candidates in the constituent Assembly.
In may, the country's President Nicolas Maduro has announced that the new Assembly will include 364 member on a territorial basis, eight from the Indian peoples. Another 168 people choose on the lists of representatives of a number of "sectors" — the peasants, fishermen, workers, students, disabled, pensioners and entrepreneurs.
According to the results of the work of the Assembly, the President plans to submit to a referendum draft of the new Constitution.
As you know, the mass protests of citizens dissatisfied with the rule of the socialists, continued from the beginning of April. Venezuelans Express their dissatisfaction with the economic situation and demand early elections.
Comments
comments