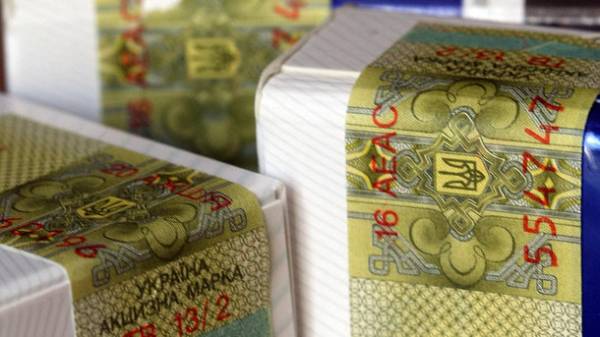 The Ministry of Finance of Ukraine published the bill, which proposes to gradually increase the rate of excise duty on cigarettes to the minimum European level, according to UBR.
Under the bill, instead of the current 21 per 1,000 pieces of tobacco in 2025 will be required to pay to the Treasury for every thousand cigarettes € 90. Changes will be made in the current Tax code.
SEE ALSO
In the Parliament proposed to increase the excise tax on cigarettes
The rate of excise duty will be increased gradually:
in 2018 it will increase by the expected rate of consumer price index (8,1%) and further to 20%.
then every year the excise tax will increase to 20%
by 2025, the excise duty will reach the European level of 90 euros.
According to expert estimates, this level of tax deductions would lead to a substantial increase in the price of cigarettes in Ukraine – the price of a pack of the cheapest tobacco products by 2025 could reach 80-90 UAH.
Recall, the Cabinet endorsed the strategy of combating illicit cigarette – smuggling but I want to give criminal terms and to raise the price of cigarettes.
Head of sector of control over tobacco of the Ukrainian Institute for strategic studies MH Konstantin Krasovsky welcomes the government's plans: "for Example, in 2010 Ukraine six times increased excise duties, and the number of smokers began to decline".
Now, according to the state statistics service, at the age of 12 years in the country smoke about 20% of the population, and according to the KIIS – 25%. Also in 2009, the percentage of smokers was 36%.
"We have to the European prices can grow for 10 years. For example, in Latvia was cheap cigarettes a couple of years ago, and now – for 3-5 euros (150 UAH). In New Zealand, I want to make a bundle for 40 USD – so good it discourages people hunting to smoke," said Krasovsky.
Comments
comments