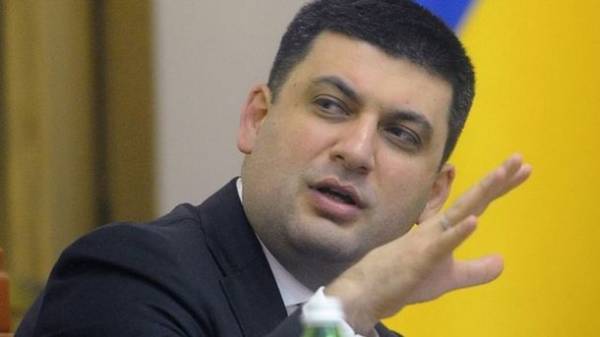 Prime Minister Vladimir Groisman told the details of the upcoming visit to Israel. In connection with the trip, according to him, the coming week's report in the Verkhovna Rada may not be, the TV channel "112 Ukraine".
"On Monday and Tuesday, I visited with a government delegation of Israel. We have a number of important issues that we need to agree on. We have about 22 events over 1.5 days and 22 events that I have to spend. I'm including with the Ukrainian business, innovative business, we want to study Israel's experience in relation to technology parks, new technologies in the agricultural sector, and this is very important for the development of the national economy. I do wish to close this session (the Verkhovna Rada – ed.) we could adopt a new law "On science parks in Ukraine." Ukraine has serious personnel having a vast experience from the point of view of innovation and competitive products. We must create conditions so that such products were produced in Ukraine", – said Groisman.
"We also enclose an agreement between the Ministry of health of Ukraine and Israel on strategic cooperation. We will also agree on the the rehabilitation Center for soldiers ATO, Israel will provide advice. I also met with the Prime Minister of Israel, Chairman of the Parliament and the President. I think this trip will be productive from the point of view of bilateral agreements", – he added.
Groisman also intends to raise the question of the adoption this year of an agreement on free trade Zone. "We have a huge potential in our bilateral trade. We will consult with the leadership of the Parliament, when to do it, so it was effective," – said the Prime Minister.
As you know, the visit to Israel will take place may 14-16.
Recall that the Ukrainian Prime Minister was supposed to visit Israel at the end of last year, but Prime Minister Benjamin Netanyahu decided to cancel the meeting in connection with the situation around the vote in the UN security Council. Ukraine then voted for a resolution on the illegality of Israeli settlements in Judea and Samaria and neighborhoods in East Jerusalem. The resolution called for the cessation of construction in the settlements, and full Israeli withdrawal to the borders of 4 June 1967.
Comments
comments