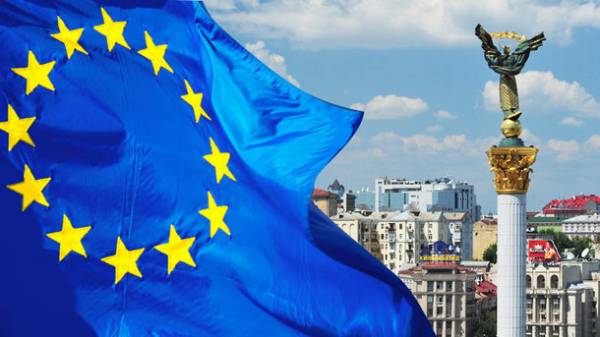 From today entered into force the Association Agreement between Ukraine and the European Union, which since September 1 starts to operate fully.
In the press release of the European Union the Europeans have congratulated Ukraine with such an important achievement, and noted that this agreement is an important tool for rapprochement and strengthening political and economic ties.
The EU claim that the deep and comprehensive free trade area creates the basis for the modernization of trade relations and economic development through open markets and harmonize laws, norms and regulations with European and international standards.
What they say in the EU
European Commission President Jean-Claude Juncker: "Decisiveness is a virtue. Today, despite all the challenges, we did it. The entry into force of the Association Agreement with Ukraine the European Union fulfills its promise to our Ukrainian friends. I am grateful to all those who made this possible: those who stood on the Maidan, and those who are trying to reform the country for the better. This is a celebration for our European continent."
SEE ALSO
The Association agreement entered into force: Poroshenko said
EU high representative for the common foreign and security policy Federica Mogherinisaid: "Today we finally got that worked in recent years: closer relationship between the European Union and Ukraine. This means closer ties between our people, great markets and more opportunities for businesses and entrepreneurs, expansion of exchange of experience and information. This shows that we share the same goals, and that the Ukrainian people can count on the support and cooperation of the EU."
European Commissioner for European neighbourhood policy and negotiations to expand Johannes Hahn: "Already seen the first concrete results of the implementation of the Agreement: Ukraine's exports to the EU increased and the EU has confirmed its position as first trade partner of Ukraine. Unprecedented was the recent efforts of Ukraine to reform, although much work remains, in particular, should continue efforts to fight corruption. The European Union will continue to support the efforts of Ukraine to reform its experience and financial support."
SEE ALSO
Tusk called the feast of the entry into force of the Association Agreement EU-Ukraine since September 1
Also, the EU reminded that they steadily support the independence, sovereignty and territorial integrity of Ukraine, as well as the efforts of the Ukrainian authorities to reform the institutions and economy of the country, which will open up the full potential of the Association Agreement and the benefits for the Ukrainian people.
The website "Today" has learned, as many experts and politicians described as historic, has influenced our country and what else will change from 1 September.
Comments
comments