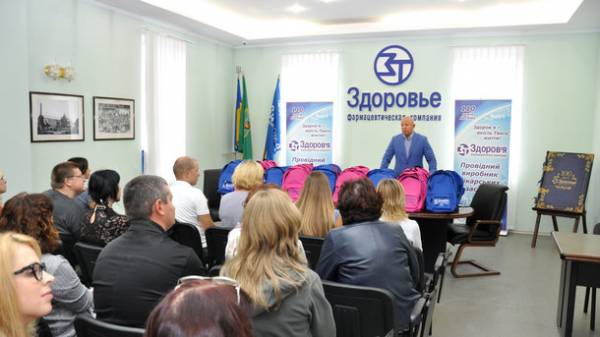 Employees whose children went to the first class received backpacks with a full set of school supplies and sweets.
Branded satchels and sweet sets by the 1st of September has become a yearly tradition in the company.
Presenting the gifts, Alexander dorovskoy turned to the children for whom the first sound of the school bell: "First of September — a holiday that is for everyone who learns and teaches. For teachers this is the beginning of a new Chapter in the work, the joy of meeting with his disciples and a happy chance to open children an amazing world of knowledge. For children now begins a completely new stage in life in which they can have many successes and discoveries, forming a healthy view of the team, have school friends. All first-graders want perseverance, excellent marks, creativity and good health in the coming school year! I am convinced that you can overcome all difficulties, to become truly educated persons and to contribute to the development of Ukraine".
Social initiatives aimed at supporting children and adolescents Kharkov, one of the largest Ukrainian producers of medicines implements for many years.
The company regularly provides comprehensive support for the younger generation, introduces children to a healthy lifestyle. In particular, the company "Health" is the sponsor of the children's and youth sports Championships in his hometown.
"Together we educate the future elite of the country, which now pleases their sporting achievements and high scores", — stated its position Alexander dorovskoy.
In addition, the company "Health" on a permanent basis providing assistance to socially vulnerable children who need support.
So, this summer on the company's money for twenty pupils Komarovsky orphanage was organized vacation on the Azov sea coast. Fifteen solar days in the hotel "Arcadia" began for children with cerebral palsy, is actually a dream come true. After all, arrange such a trip and to provide the conditions needed by children with this disease very difficult.
Sponsorship assistance for special children company "Health" has for the past fifteen years. During this time the forces of domestic parmigana in Komarovsky orphanage was renovated, equipped with modern equipment for dental office, medical office openly with a physical therapy office. Every year the company allocates funds to please the children, to support them and give a festive impression.
"The greatest joy is when we manage to fulfill childhood dreams. And we are proud that we have managed it. Because each of these children a little fighter, who daily grapple with a serious illness, and of course they deserve a summer tale by the sea", — said Alexander dorovskoy.
According to the General Director of company "Health", the company will continue to try to provide comprehensive support to the next generation of citizens.
Comments
comments