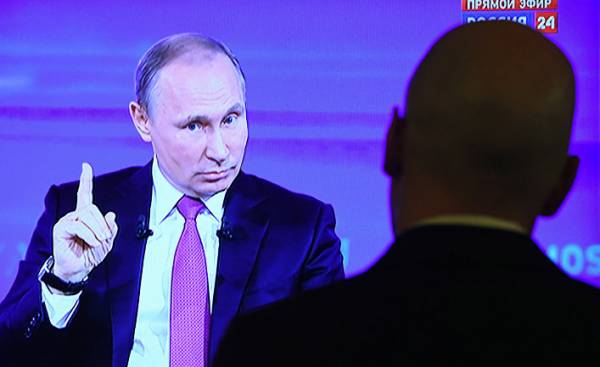 Russian President Vladimir Putin said that he had not seen the speech of Ukrainian President Poroshenko when he quoted Lermontov, but advised him to be "on guard" with the "blue uniforms" of the European Union.
He declared on 15 June during the "Direct line with President of Russia", answering — as stated — "the question of the social network Vkontakte".
"I haven't seen this speech, but I yesterday said. This suggests that he knows the Russian classics, is interested in Russian literature. For this praise," said the President of the Russian Federation.
Meanwhile, Putin said that Poroshenko was quoted Lermontov not completely, and I read the second stanza.
Maybe the wall of the Caucasus
I will hide from your pashas,
From their all-seeing eyes,
From their all-hearing ears.
"Lermontov — if it was — I wrote these poems in 1841 or' 42 about when traveling to the Caucasus… the time region, which is now considered Ukraine, was Russia. So here it is especially the nose, my God," said Putin.
"He was just moved to another part of the Russian Empire, never left. Maybe Peter thus gives us the signal that he's not going anywhere.. Just doing it subtly, with an eye on the patriots or these nationalists idiots…" — continued the mockery, the President of the Russian Federation.
According to Putin, "Poroshenko most likely wanted to show their constituents that fulfills the promises made, makes choice of civilization, leading the country to Europe," but noted that "blue uniforms" in Europe more than in Russia."
The President of the Russian Federation advised the Ukrainian President "not to relax and look around."
According to Putin, "many people in Ukraine may have questions of a hygienic character."
The Russian President said that "will not be hard to meet Poroshenko out of respect for the Ukrainian people, a common history," but quoted Taras Shevchenko:
"Doborolsya Ukraine to the edge and worse poles crucify her own children."
The Russian President advised Poroshenko "to close accounts in offshore zones, before becoming European" and wished Ukraine, "to a complex period of its history will soon be over".
As you know, according to the investigation, which was published by the international consortium of investigative journalism (ICIJ) on 3 April 2017, with Russian President Vladimir Putin can be related to offshore accounts, the turnover on the accounts exceeds two billion dollars.
Comments
comments